Bhubaneswar: Paper mills in Odisha are bad shape. Three out of five paper mills in the state have downed their shutters due to various reasons.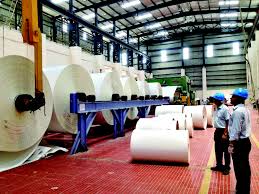 The Orient Paper Mill, one of the oldest paper mills in the country, came up way back in 1939, was  shut down in 1999. The plant had been  incurring  huge losses due to low capacity, high raw material cost and high electricity tariff besides labour unrest since 1980. Finding no way out the management declared the plant closed in 1999.
The state government is now encouraging the company to set up either a cement plant or downstream industries in aluminium, steel and automobile  sectors on the land.
The Titagarh Paper Mill at Choudwar in Oldisha has been under lock since 2002. The Paper Mill, after it was declared sick,  in fact, was sold to Ballarpur Industries Ltd on January 5, 1994. However, due to management problem , the Mill could not be run professionally under the new management and was closed down in 2002. The company is now proposing to re-start the plant by selling the surplus land of the plant.
As recently as on April 6,2016, the Seva Paper Mill in Jaypore suspended production due to financial problem and adverse business climate.  While the company has assured that it would resume production within 2 to 3 months, the state government has convened a meeting on April 7,2017 to discuss about the revival of the plant.
However, two paper mills, The JK Papers plant in Odisha's Rayagada district and the Emami Paper Mills in Balasore are doing well.  The JK, which has set up a 1.50 lakh tone paper mill  with 2 lakh tone per annum paper pulp plant, has employed 1404 persons directly and 2647 persons indirectly.
The Emami Paper Mills at Balasore in Odisha is producing news print papers using straw and sabai grass. After completing an expansion plan with an investment of Rs330 crore, the company has launched a second expansion plan with an investment of Rs 850 crore to produce paper boards using waste papers and  a 10.50MW power plant. The company has engaged 1175 persons directly and 1564 indirectly in the plant.