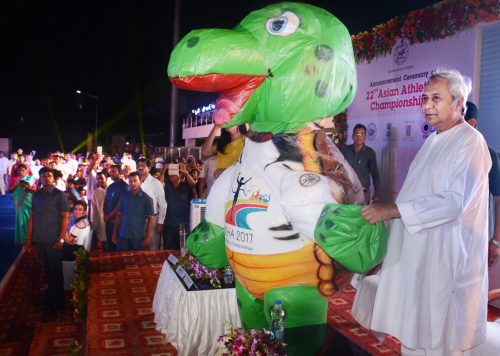 Bhubaneswar:  Odisha  chief minister Naveen Patnaik said that the 22nd Asian Athletics Championship, getting off at Bhubaneswar from July 5,  would be a glorious moment for the state.
Stating that all preparations have been made to host the mega event to be attended by players and delegates from 45 countries, he sought the cooperation of the people and urged them to give a warm reception to the sports persons and delegates as well as the sports lovers.
From 45 countries, over 1000 sports persons would be seen action in the Championship between July 6 and 9. The inauguration ceremony of the Championship would be held on July 5 . The official mascot of the sport event , Olly turtle, which represents the endangered Olive ridley turtles famous for their mass nesting along the Gahirmatha beach of the state, will arrive at Kalinga Stadium on July 2. The Olly is now receiving rousing receptions by citizens at various cities and towns of the state.
Meanwhile, the Kalinga Stadium has been converted to a world-class sports venue meeting the standard of International Association of Athletics Federation(IAAF). India hosted Asian Athletic Championship twice in 1989 at Delhi and in 2013 at Pune. Odisha bagged the event in 2017 piping  Jharkhand in the race.