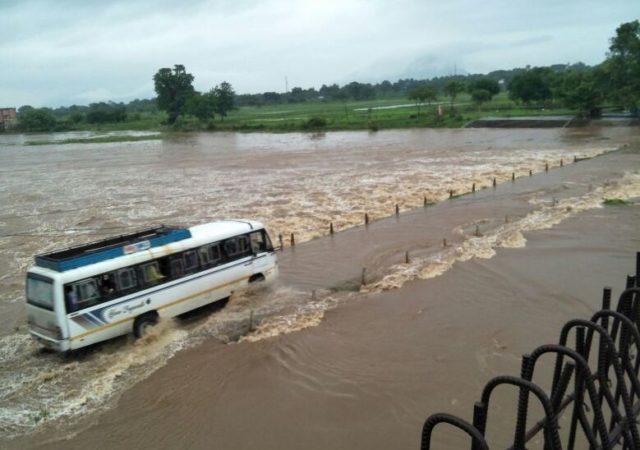 Bhubaneswar: The Odisha government has sought the defense help for rescue operation as flash floods triggered by heavy rains played havoc in Kalahandi and Rayagada districts of the state.  The swirling water in Hati and Indravati rivers in Kalahandi and Nagavali and Kalyani rivers in Rayagada washed away bridges, damaged roads and disrupted railway connectivity in several parts of the two districts. The floods have affected about 12 villages in Kalyansinghpur and Rayagada blocks and several other villages in the four blocks of Kalahandi district.
A person in Thuamul Rampur block of Kalahandi district was killed while rescuing villegers affected in a land silde, district collector, Anjan Kumar Manik.
The state government has requisitioned four IAF helicopter for relief and rescue operation in Rayagada district as it is not possible on the part of the Odisha Disaster Rapid Action Force (ODRAF) to carry out the rescue operation by using boat only, said state development commissioner, R. Balakrishnan.
The chief minister, Naveen Patnaik, after reviewing the flood situation, said that that the services of ODRAF, fire service and CRPF have been drafted for the relief and rescue works. He said that the Special Relief Commissioner's office would keep a watch on the situation.
The SRC Bishnupad Sethi said  free kitchens have been set up in the affected areas . Stating that Bhawanipatna, the district headquarter of Kalahandi, has been cut off from the Thuamul Rampur block as a bridge connecting it washed away in the flood, he said two bridges were washed away and a railway bridge was also damaged disrupting train services in Raygada district, he said.
East Coast Railway senior public relations officer Nirakar Das said train services in the Rayagada-Titlagarh railway section have been disrupted as a railway bridge between Theruvali and Singapur Road Railway stations washed away in the flood. At least 12 trains have been cancelled, he added.