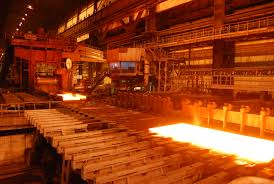 Rourkela: The  new plate mill of Rourkela Steel Plant (RSP) has bounced back  after a temporary setback. The plant which was returned to normal production in the C-shift of June 30, 2017 has recorded best ever monthly performance in July since inception.
The mill  rolled highest ever 78254 tonnes of slab in July 2017. During the month it produced 70367 tonnes of plates by utilising around 94% of its capacity. This is an increase of 14.3 % over the previous best monthly figure that was 61547 tonnes. 
The dispatch of 60963 tonnes of plates from the new plate mill matched the production and was the highest ever. The last best monthly dispatch of 60124 tonnes was registered in March 2017. It's noteworthy that the July dispatch included the export of 13172 tonnes of CE marked plates to the highly competitive European market where RSP has created a niche for itself. Besides 30,398 tonnes of high tensile plates were also dispatched during the month.
The stertling performance of the mill will bolster the bottomline of the organisation, said RSP CEO, Ashwini Kumar. The CEO along with his ED(works) Subhendra Das visited mill on Tuesday and exhorted the employees and workers to show a similar quantum jump in the production levels in coming months.
The blast furnace 5 of RSP which went through a critical phase in the recent past also achieved the best July production since inception. The total hot metal production during the month was to the tune of 2.85 lakh tonnes out of which blast furnace 5 produced 2.15 lakh tonnes.
Similarly, the sale of RSP's flat products has increased significantly in July 2017. During the month the Plant sold 2.24 lakh tonnes of flat products like plates, HR Coils, which is a stupendous growth of 43.9% over July, 2016. The cumulative sales of flat products in April-July 2017 was 808400 tonnes which is a 24.5% over rise the corresponding period last year.