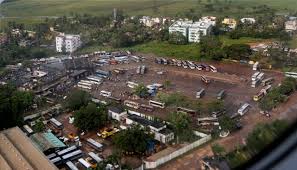 Bhubaneswar: The state commerce & transport minister, Dr.Nrusinha Charan Sahoo, Friday said that the Barmuda bus stand in the capital city of Bhubaneswar would be converted into a bus terminal of  international standard by December 2018. He said that the Odisha Road Transport department would handover the ownership of the bus stand to Bhubaneswar Development Authority (BDA) which would develop into a state-of-the-art bus terminal.
The minister while reviewing the conditions of bus stands in the state expressed his concern over the poor state of the Bhubaneswar bus stand at Barmunda.
Sahoo said that the Cuttack Badambadi bus stand, which has been handed over to the Odisha State Police Housing Corporation for renovation and modernization, would be ready very soon. He said the Corporation has been given Rs 1 crore out of the total Rs 3.5 crore sanctioned for the project.