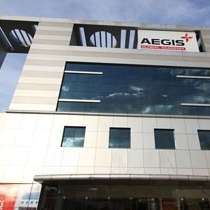 Mumbai: Aegis Limited, a global outsourcing and technology services company, Tuesday announced that it has expanded its presence in Malaysia with the inauguration of its new Business Process Management (BPM) Centre of Excellence (COE) in Medini city, the Central Business District of Iskandar Puteri, Malaysia. The state of the art facility will provide a suite of BPM solutions across clientele in Malaysia, Singapore and Asia Pacific. The launch was officiated by YAB Dato' Mohamed Khaled Nordin, chief minister of Johor, Malaysia.
The new BPM centre will be a modern and world-class facility, replete with state-of-the-art technology, customer experience tools and global quality best practices for providing multi –channel Customer Lifecycle Management solutions. The centre will have an initial capacity for over 700 employees, which could be additionally expanded basis new business opportunities and growth. At the time of inauguration the new facility would have employed up to 550 personnel, of which 90% would be local workforce from Johor, Iskandar.
Aegis global CEO Sandip Sen said " The expansion reinforces Aegis' strategy of providing our customers with an ecosystem which taps a skilled talent market and provides the best tools, processes and practices to enhance customer experience and life time value."
The company entered Malaysia in 2014 and since then has grown to over 3000 professionals serving leading enterprises across 2 centres in Kuala Lumpur. Aegis Malaysia provides a holistic Business Process Management, SMAC and technology based solutions across Telecom, BFSI, Retail, Consumer, Hospitality and technology.
Divya Dutta, Chief Operating Officer, Aegis Malaysia added "Malaysia is our hub for multi-channel Asian languages, and we are committed to expand our presence in Johor to assist our global clients.  Johor offers availability of skilled talent, strong government support and favourable business culture which will enable Malaysia to carve out a niche in the global outsourcing landscape.