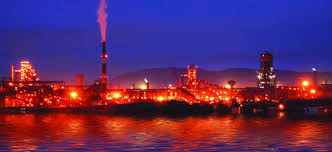 Bhubaneswar: Senior officials in Odisha industries department are closely watching the movement of JSW Steels, which has promised to set up a steel plant in the state with an invest of Rs 50,000 Cr.
The officials, who are currently under the leadership of chief secretary, AP Padhi, busy in doing follow up of the Make-in-Odisha conclave and the investment road shows at Mumbai and Bangaluru, are skeptic about the JSW's steel plant in the state. The follow-up which was insisted by the chief minister, Naveen Patnaik, has started giving dividend. The state industries secretary, Sanjeev Chopra, and his team have succeed in turning 60% of the investment intends. However, the big ticket investment proposal announced by Sajjan Jindal is worrying them even though they are toying with the idea of handing over the Posco land near Paradip in Jagatsinghpur to the JSW for the integrated steel plant.
News reports that JSW is joining investment company Piramal Enterprises with a view to bid for the stressed assets of three steel companies– Bhusan Steel, Essar Steel and Monnet & Ispat & Energy. The three companies are going through the insolvency process under the Insolvency & Bankruptcy Act. Once the information memorandum is prepared, the resolution professionals in the respective companies will be inviting bids for these companies. JSW would have to make bids.
Earlier this year, JSW Steel, in fact, had bid for Monnet Ispat. However, the lenders did not take the call. For Bhusan Steel too, JSW had approached the lenders with an offer for a debt takeover of Rs20,000-22000 crore.
As Bhusan Steel has an integrated steel plant of 5.6 million tonnes per annum (mtpa) in Odisha, while Essar Steel has 10 mtpa capacity in Gujarat, and Monnet Ispat 1.5 mtpa in Chhattishgarh. JSW, which has capacity of 18 mtpa, has a plan to be a 40mtpa steel company in next decade.  But, given the present condition of the steel market, will it pursue the goal ?
In such a situation, if JSW acquired the Bhusan Steel's assets in the bids, would it still go ahead with its 12 million tonne steel plant project in the state? If it acquired the assets of Essar Steel will it go for another steel plant in Odisha? Does it has the financial muscle to go for green field and brown field investments simulteneously? These are the questions  the Odisha government officials are now grappling with.