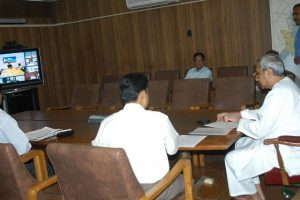 Bhubaneswar: The Odisha chief minister has exhorted the bureaucrats of the state to make the state a modern, empowered and progressive New Odisha.
"I want Team Odisha to take the state to the next level of governance-to a modern, empowered and progressive New Odisha", he said while videoconferencing with state and district level officials at state secretariat on Tuesday.
In a speech, impregnated with emotions, Patnaik has said: If we can ensure a zero causality in the face of super -cyclone, build 1 million houses in two years, better the national average in IMR, moved a record 8 million people out of poverty,  can be the only state to double the agricultural income and play a vital role in national food security, settle the maximum land to tribals under Forest Right Act, can lead the country by having the No1 smart city, have half a million tribal students in residential schools, if we can take the challenge of hosting a global sporting event in 90 days and set benchmarks in that too,  let Team Odisha show the world the way to transform governance for public good, resolve to make the state the best state to live in, and create new brand of development.
Stating that the Team Odisha has shown  it can deliver, he said that the old stereotypes of  Odisha have been broken
Patnaik urged the bureaucrats to take bold decisions keeping people at the focus assuring them that he will stand behind them and all goods works done by them would be recognised and reawarded.
Dedicating the honour of Best Administrator conferred on him by the Outlook magazine to the Team Odisha, the chief minister said it is not a mean achievement for a state which suffers from several natural disasters year after year and with not much support from successive Central governments.