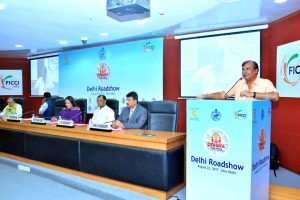 New Delhi:  The Odisha tourism department in partnership with Federation of Indian Chamber of Commerce & Industries(FICCI) is organising Odisha Travel Bazaar(OTB) at Bhubaneswar from October 15 to 17, 2017 to showcase the state's tourism potentials. The FICCI organized a roadshow, here on Tuesday, to appeal to the stakeholders to participate in OTB.
The state tourism minister, Ashok Chandra Panda, while addressing the roadshow, said that Odisha is emerging as a priority destination for creative travelers for authentic experiences with its unique natural and cultural heritage, for a diverse and immersive travel experiences to enjoy the absolute beauty of travel in a life time and the Odisha Travel Bazaar would give investors an opportunity to explore various sectors of tourism business. He urged stakeholders in the tourism sector to invest in Odisha and tap its full potential.
Giving an elaborate presentation on the business and investment opportunities available in Odisha's tourism sector, tourism director, Dr. Nitin Bhanudas Jawale, said that with better air connectivity Odisha is now easily accessible by travelers from across the globe. Besides, the unique and business-friendly tourism policy provides lucrative incentives and subsidies to investors. Also, the government had initiated single window clearance system, which has made the process of acquiring various clearances easier.
Dr. Jawale said that Odisha is promoting Beach Tourism; Eco Tourism; Buddhist Tourism; Heritage Tourism; Religious Tourism; Medical Tourism; Travel Tourism; Tribal Tourism; Wellness Tourism; Cruise Tourism; Sand Art Tourism and Adventure Tourism, in a mission mode. He added that development of infrastructure in tourism sector was one of the critical components and the State Government was looking for private sector participation. 
FICCI tourism committee chairperson and CMD of The Lalit Suri Hospitality Group, Dr. Jyotsna Suri,  said that Odisha Travel Bazar would have exclusive focus on business of inbound and domestic tourism, prefixed, structured, organized buyer-seller meets spread over three days, transacting and capitalizing on business opportunities between international, domestic buyers and sellers of Odisha tourism products at the booths of the sellers. The aim would be to ensure participation of around 40 foreign tour operators, 10 top of the line inbound operators, 20 leading domestic tour operators from across India, 5 leading airlines –  all will be hosted as buyers in the first edition of OTB. 
J K Mohanty, Chairman, Tourism Panel, FICCI Odisha Council and Chairman of Hotel and Restaurant Association of Odisha (HRAO), JK Mohanty, secretary general, FICCI, Dr.A.Didar Singh, and consultant, FICCI Rahul Chakravarty, , chairman, Indian Association of Tour Operators (IATO),  Rajeev Mehera, OSD, Odisha tourism department, Reena Mohapatra, also shared their perspectives on the upcoming OTB.