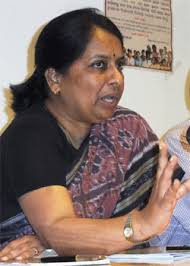 Bhubaneswar: Odisha is clocking a higher growth rate in tourist arrival.
The Odisha tourism principal secretary, Mona Sharma, Friday said that the present growth rate of the state is 9% as against global tourist arrival of 4%.  This increasing trend is a positive sign to expose the strength of Odisha, she said adding,  new tourism products like eco, heritage, tribal and beach tourism have gained momentum . Odisha has some of the stunning and attractive destinations and these should be treated with innovation, exploration and exposure. According to her the state is poised to become one of the most favoured tourism hub of the country with similar pace like Goa, Tamilnadu and Kerala.
She was addressing the session on 'Odisha-The makings of an Exciting Tourism Destination' in the ongoing 33rd Annual Convention of Indian Association of Tour Operators(IATO), here on Friday.
Speaking on the occasion the tourism minister, Ashok Chandra Panda, urged the investors and stakeholders to have their presence felt in the state.
Celebrated travel experts and panelists participated in the session said that the Odisha Tourism Policy-2016  is quite lucrative in the country for investment having features like substantial incentives and land bank facilities. Elaborate discussion was held on development of Odisha's ethnic tourism where the government has lifted restriction on the tourists visiting tribal areas. The participants emphasized on Odisha's ample tourism resources that can make the state as one of the significant destinations in India and South-Asian region. Panelists like Pranab Sarkar, vice-president IATO and managing director, Swagatam Tours, J K Mohanty, chairman, IATO, eastern region and CMD, Swasti Group, and Gagan Sarangi, chairman, Odisha Chapter and MD, Dove Tours participated in the session . Reema Lokesh, editor, "Express Travel World" moderated the session. Odisha tourism director Nitin Bhanudas Jawale gave a presentation on Odisha's tourism potentials.
There were sessions "Next Generation-Challenges and Opportunities", "Moving Beyond Culture and Heritage",  "Aviation-New Policies and New Opportunities", "FAITH and the GST Journey" and "Marketing-Stop Serving Old Wine in a New Bottle"  in which Homa Mistry, CEO, Trail Blazers Tours; R H Khwaja, former union tourism secretary, Barun Channa, Walter Thompson Worldwide; Hemant Mediratta, vice-president Oberoi Group; Rajeev Kohli, JMD, Creative Travel; EM Najeeb, chairman, AIR travel Enterprises; Suresh Nair, GM, Air Asia; Sanjay Kumar, COO, Indigo Airlines participated.