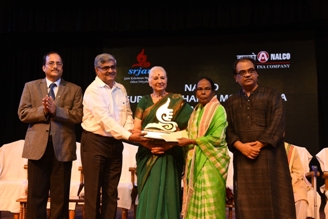 Bhubaneswar: Dance guru Dhurba Charan Biswal and Odissi vocal singer Shyamamani Devi were confered the Nalco Guru Kelucharan Mohapatra Award 2017, here on Satruday.
On the concluding day of the  23rd OMC Guru Keluchanran Moahaptra Award Festival,  Yuva Prativa Sanmman 2017  was presented to Lingaraj Pradhan of Bhubaneswar and Namrata Mehta of Mumbai for Odissi dance,  while  Jyotsna Jagannathan of Bangalore for Bharatnatyam and Jateen Kumar Sahoo of Mumbai for Odissi music .
Instituted in the year 1995 , the award is being given for excellence and contribution to the filed of dance, music, theater and cinema.
The award giving ceremony was graced by development commissioner,R. Balakrishnan, former member board of revenue, Ashok Kumar Tripathy, dance critic  Leela Venkatraman,  and director of Srjan Guru Ratikanta Mohapatra.
The artistes of Srjan presented their first presentation Tarana, embarking on new path of innovation followed by Hari Smarane is an attempt to represent, only symbolically, the essence of Jayadeva's beautiful song of love, Geeta Givindam, strictly within the confines of Odissi grammar. The last presentation was an audio visual special presentation – "Mahanayaka Bijayananda", a Odissi dance of the life and work of Sri Biju Pattnaik. A brave and dynamic leader of the masses, his magnetic personality and dedication shaped his    destiny as a political luminary with a huge following. Encapsulate the choreography in varied aspects of the sup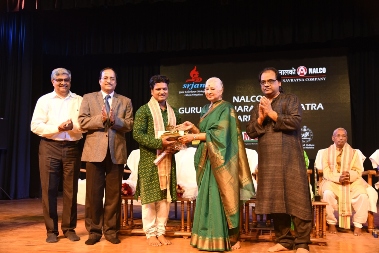 reme hero (Mahanayaka) and a colossal personality of Biju Patnaik by the artistes from Srjan is mesmerized the audience till the end.
The production and the dance choreography were made by Ratikant Mohapatra. While the music was scored by Laxmikant Palit, lyrics were by Nityananda Mishra and the script is  by Jaydev Das.