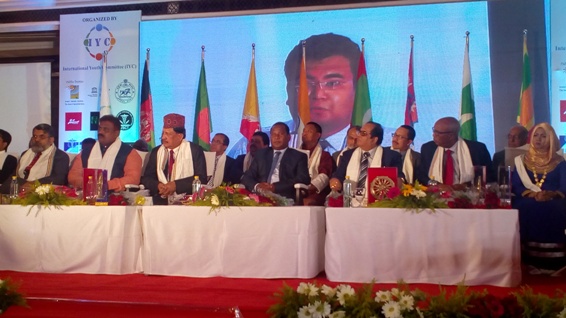 Bhubaneswar: Iconic human right activist Irom Sharmila expressed her emotions and concerns over increasing military activities. She urged the youth to make endeavour to bring prosperity.
Sharmila was speaking at the 1st South Asian Youth Summit 2017 on Monday. The three-day Summit, which got off on Sunday, has received representatives from Bangladesh, Nepal, Bhutan, Sri Lanka, Maldives, Nigera, and Kenya.
Union ministry of youth affairs & sports DG NYKS Major General DS Singh stressed on youth's involvement in decision making in the nation building. identity of power & unity.
President IYC Jayanta Patra, national convener IYC Munna Kumar, Afghanistan deputy minister of social affaris   Mohammed Abdul Raziq, union home affairs ministry NIDM head  Chandan Ghosh , Unesco national programme specialits, Ram Boojh, Odisha chief secretary, AP Padhi, lead author of the IPCC that received Nobel Peace Prize in 2007 Dr. Ranjendra Shinde, Asian Youth Council secretary general Mohamed Maliki Mohamed, Malawai high commissioner to India George Mkondiwa, Mauritius high commissioner to India Jagdish Goburdhon  spoke on the occasion. Founder chairman of IYC Dr. K K Singh expressed his deep concern for the delegates of Pakistan and Myamar not being able to attend the summit . He said,"we will continue promoting peace and unity among the youth for the Years remained in our lives."