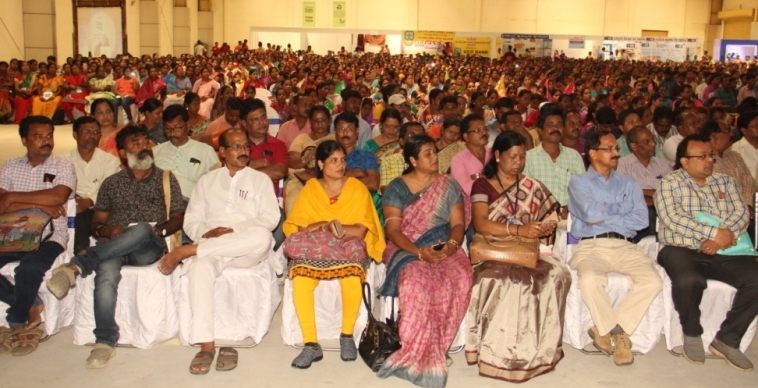 Balasore: Altogether 2250 micro entrepreneurs and SHGs were trained here on Friday in Digital Marketing Skills by Facebook under their "Global Boost Your Business" programme. This was the second programme under the 'Boost Your Business' series, under which Facebook in partnership with Government of Odisha through MSME Department and Project Misssion Shakti has agreed to train 25,000 entrepreneurs all over the State.  The first programme was held in Bhubaneswar on August 10, 2017 which was inaugurated by chief minister Naveen Patnaik.
While inaugurating the programme here at the Expo Hall of NOCCI, Balasore, minister for MSME & W&CD, MS  and SSEPD, Prafulla Samal,  stated that training of micro entrepreneurs and SHGs by Facebook will result in their digital empowerment. It will help them in digitally promoting their businesses,  products and services.  He stated that such programmes will be held at other district headquarters as well.
On this occasion, MSME additional chief secretary L.N. Gupta said that the training in digital marketing skills will help the entrepreneurs with new digital resources, insight and stimulus to build and grow their business online.  The programme is designed to equip small and medium businesses with the knowledge, skill and technology to stay innovative and increase market across globally.  He added that this joint initiative will introduce 3T enunciated by the chief minister – technology, transparency and teamwork- in day to day transaction of entrepreneurs. The joint workshop of SMEs and SHGs will also facilitate vertical integration and exchange of business ideas and strategies amongst them.
Mission Shakti commissioner Sujata Kartikeyan termed the initiative as "Digital Baliyatra" which will have far reaching impact on small and Mission Shakti business. Mission Shakti comprises 50 Lakh women from all corners of Odisha. It is a very successful silent revolution sweeping Odisha, focussing holistic empowerment, she said.
Director industries Niranjan Sahu emphasized the need of continued collaboration between Facebook and the young entrepreneurs for giving them hand holding support in the coming days.
Facebook South Asia head of policy programme Ritesh Mehta said, "Small businesses are the backbone of our economy and an important part of our Facebook community. Odisha is one of fastest growing state economies in India. We want to help accelerate this growth by giving entrepreneurs the skills they need to build and grow a business, by connecting them with customers at home and abroad."
India is a priority country for Facebook and the "Boost Your Business" program is a part of the company's continued investment in Indian small businesses, developers and the over 200 million Indians who use Facebook monthly. Facebook has an array of options to support small and medium business owners to create and leverage their presence online. Features such as the Call to Action Button via which prospective customers can directly get in touch with sellers on Facebook; the shop or services Page sections which allows local retailers or service providers to showcase their products/services via Facebook; and the professional services feature which lists local service providers and includes reviews and ratings from other users.
On this occasion SBI DGM B K Das, representatives of UCO Bank, Indian Bank and Bank of India were present to provide inputs regarding credit access to MSMEs and Mission Shakti Members.