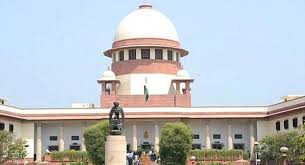 New Delhi: That large number of people are rotting in jails in the country despite recommendations for their release has annoyed the  Supreme Court.
The apex asked the government, "What is this happening?", while observing, "People are languishing in jails and there is problem of overcrowding of jails also. Look at the National Legal Services Authority (NLSA) affidavit. It gives an indication what is going on."
Quoting the NLSA affidavict which points out that thousands of prisoners are languishing in jails across the country even after being granted bail or completing their sentences, a division bench comprising justices Madan B Lokur and Deepak Gupta viewed, " It is a pretty shocking state of affaris" while adding, "This situation cannot be accepted."
The government of India attorney general, KK Venugopal told the cournt that the Centre's advisory to the states are not being carried out. The court should direct the state governments about it, he pleaded.
"You should stop advising the states if they are not listening to you. It cannot go on like this. You are giving advise to states and it is thrown into the waste basket," the bench observed.
Accepting the suggestions of the Attorney General, the bench directed the government of Maharastra, Madhya Pradesh and Uttar Pradesh to file affidavits by October 25 as to why persons were not released from jails despite the recommendation of the district legal services and undertrial review committee to release these persons.  The apex court  also asked the states to explain how there were instances of more persons being released from jails than what was recommended by legal services authority or by the undertrial review committee.
The bench, which is hearing a PIL filed in 2013 on the prevailing inhuman conditions in 1382 prisons across the country, has  posted the matter for hearing on October 31, 2017.