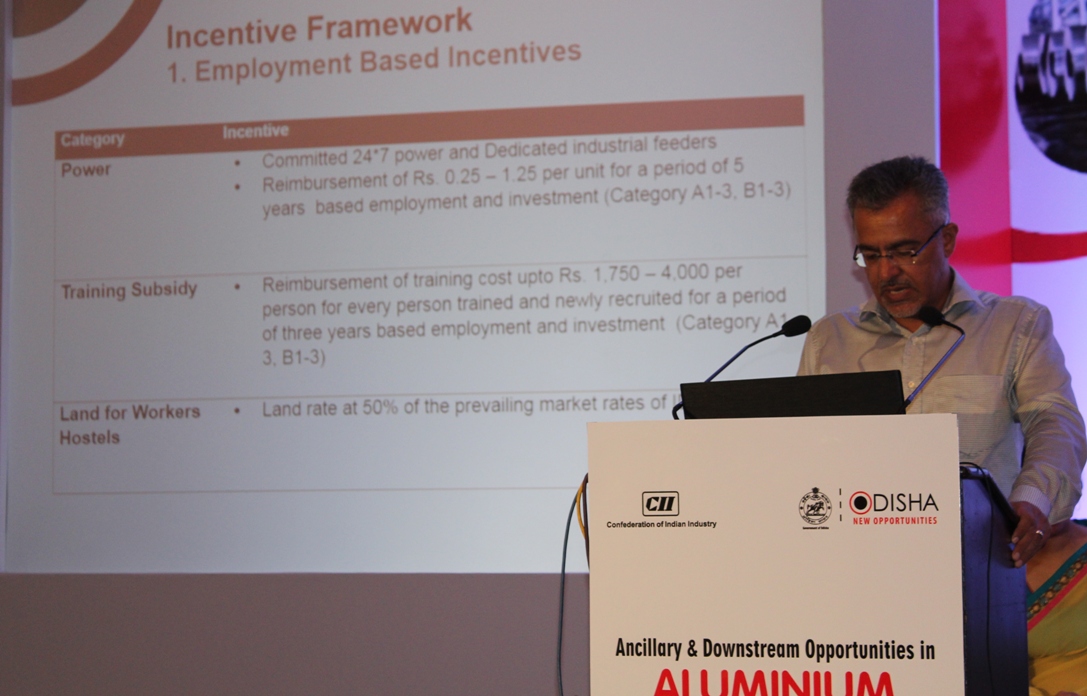 Bhubaneswar: Odisha has attracted investment worth Rs 893 crore in the last five year and four out of five proposals drawn are for the Angul Aluminium Park  (AAP), first of its kind in the sub-continent  developed jointly by Nalco and Idco in Angul.  Bahrain-based Midal Cables and Grid Conductors, an subsidary of Power Grid Corporation of India Ltd.(PGCIL), have proposed to set up units in the park, said the state industries principal secretary, Sanjeev Chopra,  here on Monday.
Chopra said, "We have already received several investment proposals for the Park in Angul and we aim to create around 15000 job opportunities through the project."  He said that investments in aluminium downstream sector have been gaining momentum in the state.
Stating that Odisha is witnessing rapid industrial transformation as per the roadmap laid out in our 'Vision 2025' document, he said Odisha is a mineral rich state and by developing world class infrastructure we aim to provide an ideal business ecosystem for all the related sectors to flourish.
The state industries department in association with the CII had organised a round table interaction with the downstream and ancillary aluminium companies interested to invest in the state. Over 70 Indian companies like KEI Industries, Jindal Steel, Havells India, Indian Oil, Hindustan Petroleum Corporation Limited and Sterlite Technologies Ltd among many others attended the round table.
Odisha is home to leading aluminium companies like NALCO, HINDALCO and Vedanta which ensures availability of raw materials for the downstream industries. For the Park at, the state government has already received investment proposals in downstream industries of conductors, extrusions, castings and foils to name a few. The extent of these investments diversifies to other value added products catering to white goods, auto components, construction and other allied industries. Ancillary businesses are also expected to benefit from this project and their investors include providers of raw material of calcined petroleum, special refractory bricks, cryolite, caustic soda and aluminium fluoride.
India's aluminium consumption is growing at a compound rate of 15% (year-on-year), making it one of the largest consumption markets in the world. With the demand of aluminium expected to rise further, Odisha which is the largest producer of aluminium in the country and contributing to 54% of the country's total smelting capacity is setting up first of its kind Aluminium Park in Angul with the facility for downstream industries to directly obtain molten aluminium from the smelter. Spreading over 223 acres of industrial land, the Aluminium Park will create ample of opportunities for the downstream industries in the state.
The Angul Aluminium Park CEO, SK Mohanty,  said, "Odisha accounts for 50% of the aluminium production in the country. The aluminium refining capacity has gone up to 5.775 million tonnes per annum (MTPA) from 0.80 MTPA and smelting capacity to 2.634 MTPA from 0.509 MTPA. Availability of abundant raw material from Nalco, Vedanta will be very crucial for the downstream aluminium and ancillary industry."
Vedanta Limited CEO(aluminium) Abhijit Pati  said, "With 25% of coal and 60% of bauxite in the state, there cannot be another state which can be aluminium capital. We have to create success story of consumption and demand of aluminium in the state. In this direction, the downstream industry will also help generate huge employment potential in the state. Also, R&D impetus will further boost growth in the sector."
The CII Odisha chairman and CMD of Nalco, T K Chand, said,  "There is a huge opportunity for downstream products in the state. Investors will be getting developed land, power and training facilities. Additionally, the State Government will be also be assisting the investors in setting up their operations.'"
Assuring that Nalco will provide hand holding to all the downstream and ancillary units in the Park, Chand said the  downstream industry will have cost benefit of Rs 10,000 per tonne and will have enough raw material committed to them.
With an investment of Rs 180 crore on the infrastructure of the project, the aluminium park will provide world class logistics and infrastructure facilities, an exclusive training centre, Aluminium Product Evaluation Centre (APEC) furnished with a full-fledged tool room, testing, simulation and evaluation facilities, processing hall and prototype development facility to foster innovation and deliver excellence in terms of quality.
Last month, the state government, in collaboration with Tata Steel and Jindal Stainless (JSL), hosted a similar meet for the steel and stainless steel downstream industries at Kalinganagar.