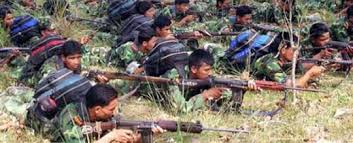 Bhubaneswar: The Odisha chief minister, Naveen Patnaik, Friday said that even though the Maoist activities in the state has been controlled, the state is facing problem due to infiltrations of red rebels from neighbouring Chhattishgarh, Jharkhanda, Andhara Pradesh.
Patnaik, while replying to a demand discussion on his Home portfolio in the state assembly, said the asymetric deployment of Central forces along Chhattishgarh border is a major issue towards which the state government has drawn the attention of the Central government. "However, as usual our repeated requests for additional deployment of Central forces has not been considered so far," he pointed out.
The chief minister said that the state has exhibited its commitment to eliminated Left Wing Extremists (LWE) is reflected from the fact that the state is going ahead with the strategic Gurupriya Bridge    construction even though the Centre is not providing adequate fund for the project. He expected that the bridge would be completed within a few months from now which would connect the cut off areas of Malkangiri district.
Stating that the state has rescued 3748 missing children under Operation Muskan III this year, he said that the union ministry of home affairs.