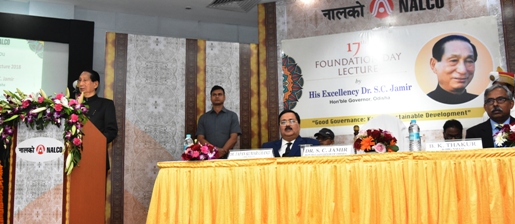 Bhubaneswar: Odisha governor S C Jamir Thursday said the Central sector Nalco should identify the skill gap and the emerging skill needs to remain competitive in the world aluminium market.
"Nalco should take the lead as the company has in-depth knowledge of the industry, and play a key role in making sure training meets the needs of the sector it represents", said the governor, while delivering the Nalco Foundation Day Lecturer on 'Advancing Opportunity for Youth: Pathways to Economic Growth and Inclusion, here .
Stating that  global economy and India's place in it is evolving quickly, Jamir said the country has been undergoing a transformation and yet is home to millions of earnest and employment-hungry youngsters, who are unable to get jobs.
The governor said "The skills vs jobs requirement mismatch often leads to economically inactive working age group people. Therefore, industry must recognise the role of skilling to ensure better work quality."
He called on industries to ensure a quality skill development system to meet their own needs as well as provide growth opportunities to the youth. He said the Skill India Mission as an opportunity for industries to play an important role in bridging the skills gap in the country, and urged  the corporate leaders to come forward to address the issue.