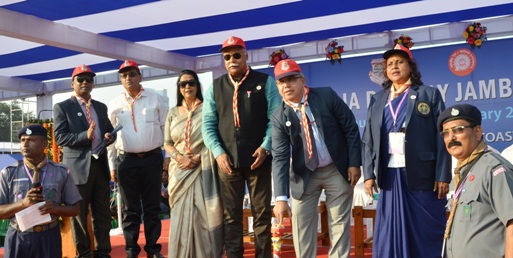 Bhubaneswar: The 18th All India Railway Bharat Scouts & Guides Jamborette was inaugurated by the Member Staff of Railway Board, D. K. Gayen, here on Saturday. Member Staff of Railway Board in presence of Shri Umesh Singh, General Manager of East Coast Railway at Sports Complex of Mancheswar Carriage Repair Workshop, today.
 Gayen said that scouting activities develops in every child the fundamentals of discipline and also makes them brave and strong enough to face any situation. 
Gracing the occasion, the East Coast Railway (ECoRly) General Manager, Umesh Singh, said that, scouting skills in the field of first aid, pioneering, compass, mapping and backwoodsman cooking  along with social awareness activities, disaster management, human chain & route march on social awareness and pageant show will definitely help all participants to make themselves good human beings in their future life.
The ECoRly Principal Chief Personnel Officer cum State Chief Commissioner of Bharat Scouts & Guides Manju Ray said that more than 2500 railway bharat scouts and guides volunteers from 16 Zonal Railways all over the country are participating in Jamborette, which is going to held here at Sport Complex of Mancheswar Carriage Repair Workshop till January 11, 2018. 
 President of ECoRly Women's Welfare Organisation Madhulika Singh, Additional General Manager  Rajeev Sharma were present to mark this occasion.
After the inauguration, Drill Display competition was held between the 16 Railway Zones. The Drill & Display was based on pyramids, physical exercise, fire fighting, lathi play, yoga, malkhambs, gymnastics, aerobics, juggling, etc.
 A colourful and uniquely choreographed cultural function was organised in which all the 16 teams presented their best skills.