Bhubaneswar: Hindustani classical vocal exponent Sanjeev Abhyankar and Jugalbani in violin by Ganesh and Kumaresh filled the air as the curtain downed on the Rajaranji Music Festival 2018, here on Saturday.
With the eleventh century old Rajarani temple in the back drop, Odisha's annual music festival presents artists of national and international repute every year. The festival also feature eminent Odissi vocalists of the state.
Saturday evening, Sanjeev Abhyankar gave the fitting adieu to the festival for the season with his rendition  of  Kahe Sakhi Kaise Kekerio…. based on raag Yaman Kalyan and taal Ek Tal. His second presentation was Sakhi Hai Aaj Piyajika….in drut. Sanjeev's flawless expansion of raag, innovative applications of taan and sargam spellbound the audience. He was accompanied by Aditya Joshi on Tabla and M. Kulkarni in Harmonium.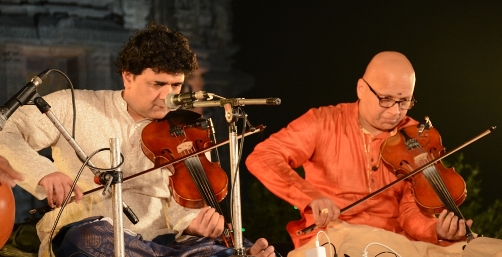 The programme was followed by a jugalbandi by eminent violinist duo Ganesh and Kumaresh. They presented Karnataki classical raag Aditya. They were supported by R.Shankarnarayan in Mrudanga and T.G. Swami  Ghatak
The concluding evening was graced by Mardala exponent Guru Dhaneswar Swain, Bhubaneswar Music Circle general secretary Khirod Patnaik, and Doordarshan programme executive Prakash Kumar Mohapatra. GKCM Odissi Research Centre chief executive Dr. Sangita Gosain and Dr. Vidula Ramlaxmi conducted the programme. Tourism deputy director Sunil Kumar Patnaik, Saroj Kumar Jena, Pratapdev Raj, and tourist officer Ratikanta Patnaik also graced the occasion.