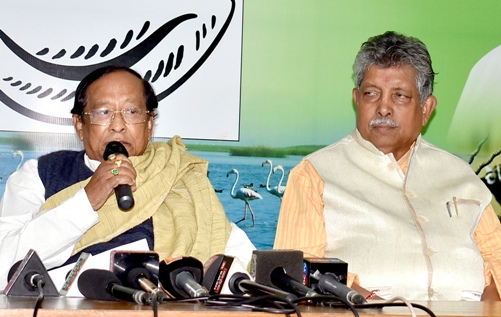 Bhubaneswar:Biju Janta Dal president Naveen Patnaik Wednesday suspended Kendrapara MP Baijayant Panda from the primary membership of the party on charges of anti-party activities.
The Biju Janata Dal vice  president Surya Narayan Patro made the announcement of Panda's suspension at a press meet, here on Wednesday.
"MP Jay Panda has never hesitated to criticise the party in Parliament, in the State & his constituency and before media. He rather has also praised the opposition and during the three-tier Panchayat Election in the State in 2017, the parliamentarian was involved in anti-party activities like not campaigning for party candidates in his own constituency and even campaigning for candidates of other parties. Such activities of the lawmaker is definitely demoralising for the party workers who have sent him to the Parliament  four times," Patro said while reading out a statement to media.
Patro, who is a minister in Naveen Patnaik government, said that  Panda started indulging in anti-party activities when party disapproved his suggestion to propose his name for the chairmanship of the Lok Sabha Finance Standing Committee.
Panda, in a tweet, has said that he has become a victim of conspiracy.