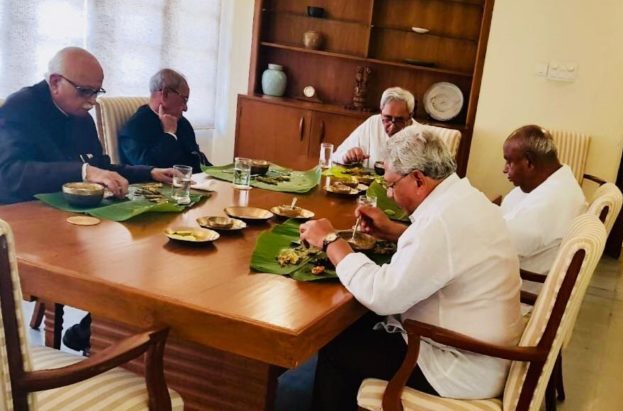 Bhubaneswar: Fromer prime minister HD Deve Gowda, Satruday said that Odisha's legendary political personality Biju Patnaik should be conferred with the high civilian award of the country–Bharat Ratna.
He was spaeking at the event of the book launch of 'The Tall Man-Biju Patnaik, a pictorial biography of the towering politician of Odisha, here on Saturday.
The former president of India,Pranab Mukherjee, released the book in the presence of former deputy prime minister and BJP margdarshak LK Advani and CPM secretary general Sitaram Yechury. Eminent journalists of India Prabhu Chawla reviewed the book. Odisha chief minister Naveen Patnaik presided over the ceremony.  The book is based on research by the author Ganeshan.
Gowda said,  "Biju Babu richly deserve the highest civilian award". "I strongly recommend that the Government of India should confer Bharat Ratna award on Biju Patnaik for his exemplary service before and after independence," he added.
Recalling his interaction with Biju Babu during his tenure as Planning Commission vice chairman, the former president of India Pranab Mukherjee said, "Biju Babu and the former vice president of India Bhairon Singh Sekhawat(both were chief minister then)  had contributed for the preparation of a new formula  for the sharing of resources between the Centre-State after Gadgil formula become outdated. "
Senior BJP leader LK Advani got emotional and stated, "Though I had attended several book release functions, I have not got a chance to attend this kind of a ceremony. I am proud to be present during the release of a book on the legendary leader Biju Patnaik."
CPI(M) party chief Sitaram Yechury said, that the secular, democratic value for which Biju Babu is considered to be a great leader should be kept alive as a rich tribute to his soul. He said that there is an urgent need to protect the various institutions of the democracy .
The former president and the three national leaders of BJP, Janata Dal and CPM arrived here in the after-noon and had a typical Odia dishes as lunch with Naveen in Naveen Niwas.