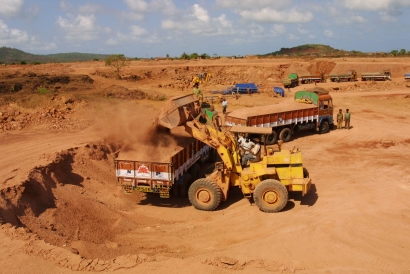 Bhubaneswar: It came as a little respite for the global mining giant Vednata, as the Odisha government has recommended to the Centre for grant of two laterite mines in favour of it.
The Odisha mines director, Deepak Mohanty, told The India Whispers that the state government has recommended mining lease of two laterite mines in the district of Koaraput in favour of Vedanta Ltd. He said that the Vedanta, which had the prospecting licenses for the two mines.
Laterites are minor minerals generally used in constructions. However, Vedanta has developed technology to extract alumina from the laterites. After losing hope of getting raw material from the nearby Niyamgiri, Vedanta had applied for the PL of some of the laterite mines in the state.
The two mines with 15 million tonnes per annum(mtpa)  of raw material would meet only 75% of the Vedanta's 20 million tonnes per annum requirement. Vedanta, which has a 1 mtpa alumina refinery at Lanjigarh in Kalahandi district, is going to ramp up the capacity to 6 mtpa. To run a 6 mtpa plant, the bauxite requirement is about 20 to 21 mtpa.
The Anil Agarwal headed aluminium company has invested Rs 50,000 crore in Odisha, the largest in the state, to set up a 1 mtpa refinery, 1.7 mtpa aluminium smelter and a captive power plant. The refinery was linked with the bauxite of Niyamgiri mines through the Odisha Mining Corporation (OMC). However, the facilities are facing raw material problem as access to Niyamgiri bauxite reserves denied due to opposition from the aborigin Dongrai tribes living on the hills.
Vedanta is keep running the plants by sourcing bauxite from Gujarat, Jharkhand and Chhattisgar. Not only that it is also importing alumina at the rate of $300 per tonne to feed its smelter.  The Vedanta Aluminium Ltd. is virtually bleeding ever since it has commissioned its plants.
After the Niyamgiri mines fiasco, the state government is now proposing to link the bauxite from the Kodingamali mines, which has a reserve of 100 million tonne, to the Lanjigarh plant. Vedanta plans to ramp up its smleter capacity to 3mtpa from the present 1.7 mtpa.