Global Premiere of next generation Passenger and Commercial vehicles
26 Integrated Mobility Solutions showcased through thematic zones across the pavilion  
New Delhi:  Tata Motors, with a fresh new appearance in the 150th year of the Group, Wednesday brought alive the India government's vision of smart cities of the future with its 'Smart Mobility, Smart Cities' theme at the 'Auto Expo – The Motor Show 2018'. Showcasing mobility solutions for intelligently connected cities designed to offer convenience, safety, security, and efficiency to its customers, Tata Motors demonstrated its capabilities shaping India's future of mobility.
As the only OEM with an end-to-end extensive product portfolio across its passenger and commercial vehicles businesses, Tata Motors is in a unique position to play a complimentary role in the smart cities of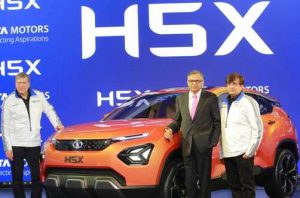 the future. From public transport to personal cars, from last mile connectivity to BRTS, from emergency response vehicles to commercial utility vehicles, from green and sustainable solutions to vehicles designed to amplify the thrill of the drive – Tata Motors has a product portfolio to connect the aspirations and needs of its discerning customers.
 In the Passenger Vehicles (PV) segment as part of the two-architecture strategy, two attractive innovations made their global debut at this motor show. These were the 'H5X concept' from the – 'Optimal Modular Efficient Global Advanced' Architecture 
 – the 5-seater luxury SUV, set to redefine the SUV benchmarks in the country and the '45X concept' – the premium hatchback based on the versatile  – 'Agile Light Flexible Advanced' Architecture 
 In the Commercial Vehicles (CV) segment, the all-new Tata INTRA – the stylish, feature loaded, compact truck that is set to re-define the SCV segment in the country was unveiled. Bollywood Superstar and Tata Motors' CV business brand ambassador, Akshay Kumar made a grand entry unveiling the Tata INTRA in a dramatic fashion. Also displayed were the SIGNA 4323, India's first 6-axle rigid truck with a 30-ton payload, the highest in the market and the all-new Ultra T.7, an elegant LCV based on the modular ULTRA platform and with a 1.9-meter, wide cabin.
 The company also announced its new design language 'IMPACT 2.0' for PVs and for CVs, 'Premium Tough' – adesign that reflects a sense of purpose coupled with strength and quality.
 The Tata Motors CEO & MD, Guenter Butschek, said, "This Auto Expo, we have taken it several notches higher, outlining our plans for the future of India's Smart Cities and its connected generation. Our 'Smart Mobility, Smart Cities' pavilion has been designed keeping the future Smart Cities and emerging market trends in mind. Our exhibits are a clear indication of our capability to meet the growing aspirations of our customers. Our new future ready 
 and 
PV Architectures along with the H5X, 45X concepts and the all-new LCV, Tata INTRA represent the changing face of Tata Motors in our journey towards shaping the future of mobility in the country. From products to presenting experiences and solutions, Tata Motors has always been an enabling force in the Indian automotive industry."