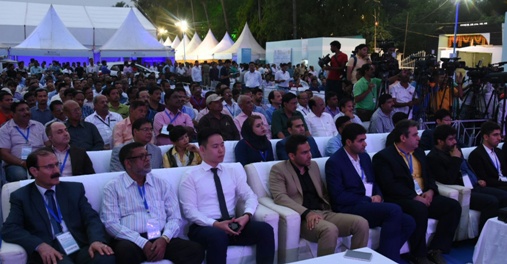 Bhubaneswar: The Odisha chief minister, Naveen Patnaik, inaugurated the International MSME Trade Fair 2018, here on Monday.
Addressing the inaugural session, Patnaik  said that promotion and growth of MSMEs has been the top most priority of the government. Welcoming the foreign delegates, Patnaik urged them to explore business opportunities in the state.
The International MSME Trade Fair 2018 and Entrepreneurship Week with focus on Food Processing is being participated more than 300 MSMEs and 30 Startups. Besides 30 entrepreneurs from Iran, South Korea & Bangladesh are participating for the first time in the Trade Fair.
Patnaik said that more than 3.12 lakh MSMEs have been established in the state with a cumulative investment of more than Rs.15,300 crore. They are providing employment to over 13 lakh persons. He added that investment promotion in the MSME and Food Processing sector remains a focus area of the government and informed that altogether 336 projects worth Rs.1796 crore have been approved by District Level Single Window Committees since April, 2015. He wished all the international participants, industry associations, entrepreneurs and startups all the very best for their business promotion and entrepreneurial endeavours.
Speaking on this occasion, the state MSME minister,Prafulla Samal, said that development of MSMEs and provision of a conducive eco-system for their development remains our focus. Not only through the newly declared policies for MSME and Food Processing Sectors, but also with the help of credit mobilisation to MSMEs, government  is assisting the entrepreneurs, he added.
The industries minister, Ananta Prasad Das, said the state provides congenial environment to the entrepreneurs for setting up their industries in the state and requisite framework for ease of doing business.
The union MSME secretary, Dr. Arun Kumar Panda, assured the Centre would  extend all cooperation for the growth of MSMEs of Odisha through cluster funding ZED, GeM and Digital Marketing.
On this occasion, the Odisha MSME additional chief secretary L.N. Gupta,informed that the trade fair is having more than 350 stalls divided into 06 pavilions. Pavilion-1 is the international pavilion for the international exhibitors and CPSUs. Pavilion-2 is earmarked for food processing & sea food MSME units and 70 food processing units are participating in the fair. Pavilion-3 is earmarked for the MSMEs led by women and ST/SC Entrepreneurs. 30 numbers of ST / SC and 60 numbers of Women Entrepreneurs  have put up their stalls in this pavilions. Similarly, Pavilion-4 displays the product of  MSMEs working in Engineering & allied sector and Pavilion-5 showcases products of exporters. Besides, CPSUs like NALCO, IOCL, Ordinance Factory; State PSUs like OMC, GRIDCO, IPICOL, Central Organisations namely, MPEDA, Coir Board, QCI and GeM are participating in the Trade Fair.
On the sidelines of Trade Fair, seminars on the MSME related topics namely "Credit & Marketing Linkage to MSMEs & Exporters" on the March 6 March, "Boosting MSME Business through ZED, GEM, IPR and Digital Marketing" on March 7, "Development of MSMEs with Focus on Women and ST/SC Entrepreneurs /Startups" on March 8, "Potential of Food Processing in Odisha with Focus on Packaging" on March 9 and "Mission-1000 Startups-Way Forward" on the March 10 are also being organised for the benefit of MSMEs, innovators and startups of the state.