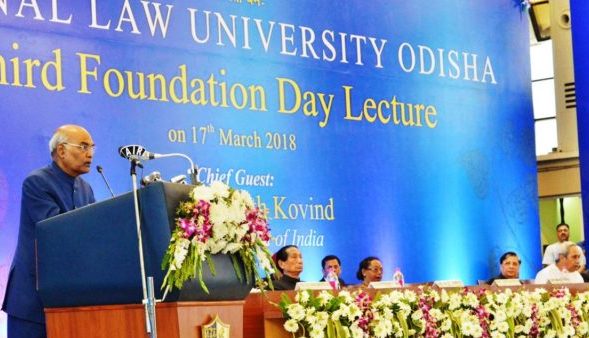 Cuttack: The President of India, Ram Nath Kovind, delivered the Third Foundation Day Lecture of National Law University, Odisha (NLUO), here on Saturday.  The Odisha governor, Dr.SC Jamir, chief minister Naveen Patnaik, union petroleum minister Dharmendra Pradhan, the chief justice of India Dipak Mishra, chief justice of Odisha high court and NLUO chancellor justice Vineet Saran, and NLUO vice-chancellor Prof. Srikrishna Deva Rao also addressed on the occasion of the Foundation Day.
Kovind said that the national law universities have revolutionised the legal education in India. This state has given us many legal luminaries beginning from Madhusudan Das to justice Dipak Misra. He said that that the legal profession has been modernised and hence, legal professionals today have many opportunities as compared to those of earlier generations. He appreciated the efforts of the university in offering Distance Education courses like the Child Right Course in collaboration with UNICEF.
He urged the future legal professionals to simplify legal rules and enhance legal literacy. He expressed his vision of an India where the poor and rich have an equal access to justice. He also requested students to enter the profession not just with their mind in the professional, but also with their heart. He finally appealed to the students to take a pledge that whenever they start their legal career, they should pay back to the society with their philanthropic work.
Justice Dipak Misra who is also visitor NLUO stressed upon the importance of Foundation Day as a mark of remembrance and to introspect what we can do in the future. When students graduate from the university, students should become cornerstones of liberty, justice and equality. Quoting Einstein he said students not to regard studies as a duty, but an opportunity to learn.
Justice Vineet Saran who is also the chancellor of  NLUO said that NLUO has made a name not only in the national level, but also in the international level. He urged everyone present to contribute to the vision of the university and to reach its peak.
The NLUO vice-chancellor Prof. Srikrishna Deva Rao said that good infrastructure, and sufficient resources along with an enabling environment goes a long way in the growth of self-motivated and bright young achievers. The outstanding work of the faculty is indispensable in inspiring the young minds to achieve more, he added. The registrar of the university, Dr. Dolly Jabbal, also spoke on the occasion.