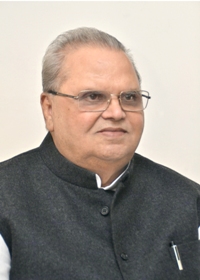 Bhubaneswar: The Bihar governor, Satya Pal Malik, will act as the governor of Odisha till the appointment of a full-time governor for the state. The President of India, Ram Nath Kovind, has directed Malik to take charge of governor of Odisha in addition to his own duties.
The Odisha governor Dr. SC Jamir's five year term came to end on Tuesday.
Jamir was sworn in as Odisha Governor on March 31, 2013.
In his last address to the Odisha Legislative Assembly, governor Jamir  highlighted the achievements of the BJD government in the state.  Formation of tribunal to resolve Mahanadi river water dispute with Chhattisgarh, amendment of the Odia Official Language Act with provisions for punishments for violators, and special development council in nine tribal dominated districts are some of the achievements of this government, he said.
Stating that Odisha is emerging as the sports hub of the country, the governor said that the state had successfully hosted  the Asian Athletic Meet in 90 days and is going to host the World Hockey Legaue.