Bhubaneswar: The Xavier University Bhubaneswar(XUB) Wednesday hosted its 4th Annual Convocation here at XIMB campus.
A total of 412 students consisting of doctoral students, Business Management students, Global MBA, Executive MBA's as well as Urban Management and Governance students graduated on this auspicious occasion.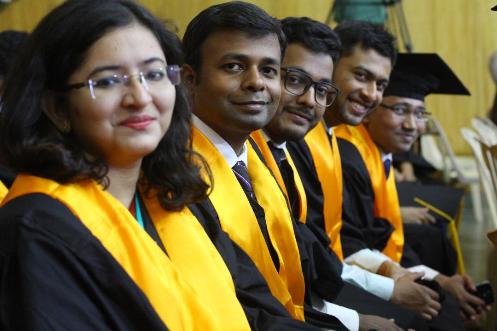 The 2018graduates have strived to evolve into good corporate citizens of today's talent landscape and the convocation was an opportunity for the University to celebrate their achievements before bidding them good luck, to the ever dynamic, business world of today.
The chairman and senior managing director of Accenture in India, Rekha Menon, who is also member national executive council of NASSCOM and member national executive board of American Chamber of Commerce in India's council, graced the convocation as chief guest and convocation speaker.
XUB chairman Rajiv Kaul, vice chancellor Fr. Paul Fernandes,  and registrar & secretary Fr. E. A. Augustine also addressed the convocation meeting.