New Delhi: The Congress high command Rahul Gandhi has appointed Niranjan Patnaik as the new president of  Odisha Pradesh Congress Committee(OPCC) replacing Prasad Harichandan with immediate effect.
The AICC president has also appointed three Congress leaders, Chiranjiv Biswal, Congress deputy leader in Odisha Assembly, Naba Das, Jharsuguda MLA and Pradeep Majhi, former Congress MP  as the working presidents of Odisha Congress.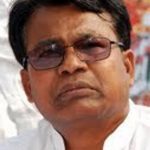 Gandhi also appointed former MP Bhakta Charan Das as Chairperson of Campaign Committee, Odisha in-charge Jitendra Singh as Chairperson of Co-ordination Committee, party leader Jagannath Patnaik as Convener of Coordination Committee, former PCC President Jayadev Jena as Chairperson of Core Committee, former PCC President Sarat Patnaik as Convener of Core Committee, former Odisha Chief Minister Hemananda Biswal and Congress leader Sarat Rout as the Chairperson and Convener of Disciplinary Committee respectively.
Former union minister Srikanta Jena has been appointed as manifesto committee chairman.
" I am grateful to the AICC president Rahul Gandhi for his decision to assign me the new responsibility," said Patnaik after AICC announced his appointment as the new PCC chief of Odisha.
"The party will work with dedication to strengthen the party at grassroots level. We will continue fight against several issues in Odisha," he said. "We are going to fight a winning battle not a losing battle in Odisha," he added.
The party appreciated the performance Prasad Harichandan, who stepped down as the PCC chief.