Bhubaneswar: Odisha Congress manifesto committee chairman Srikanta Jena's letter is bound to create an explosive situation in Odisha Congress.
If, the suggestions made by Jena in his letter will be accepted then the newly nominated Odisha Pradesh Congress President Niranjan Patnaik would not be the chief minister if the party would come to power in 2019 elections.
Jena, in his letter titled 'Preamble of Congress Manifesto for 2019 Elections in Odisha', which was circulated among the Congress leaders and MLAs on Friday, has suggested that the Congress if come to power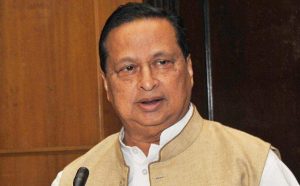 will select a chief minister from among the OBC /SEBC candidates. Not only that, he has suggested that there should be two deputy chief ministers from SC and ST candidates.
If Jena's suggestions would be accepted then Niranjan Patnaik would have no chance to become the CM. Similarly, Chiranjibi Biswal and Naba Kishore Das would not qualify for the deputy chief ministership. Only Pradeep Majhi would have the stake to become the deputy chief minister.
Jena, in his letter dated April 23rd has said, "As Chairperson of the Manifesto Committee of the Odisha Pradesh Congress Committee, I would like to propose the following preambles of our manifesto for the 2019 election. The preambles will be based on three pillar of political representation, economic justice and social justice.". " I welcome your view on this:
Political Representation- The Congress, if voted to power, will select a chief minister and two deputy chief ministr, from among OBC/SEBC (54%), SC(16%) and ST(22.5%) candidates. This will enable extend representation to for all section of the society since these communities are collectively 92% of Odisha's population and 'Bahujan).
Economic Justice- The Congress will liberate the state and its socio-political life from the stranglehold of mining mafia and ensure that the mineral wealth of Odisha is used for the welfare of the people. Illegal mining operators have looted Odisha's mineral wealth over the years(as per the Shah Commission report in 2022 this was in the excess of Rs 2 lakh crore). In addition to cancelling all mining leases and transferring them to the state government, the Congress government will confiscate the properties of all illegal mine owners and transfer the assets to a People's Welfare Fund which will invest in education, health and infrastructure.
Social Justice- The Congress will  implement within 30 days of coming to office, the recommendations of the Mandal Commission for OBC/SEBC in employment and education.
Sources close to Jena said that the Odisha Congress manifesto committee chairman has already sent the copy of the letter to party high command Rahul Gandhi and AICC general secretary in charge of Odisha Jitendra Singh. Both of them have appreciated the suggestions made by Jena, the sources added.