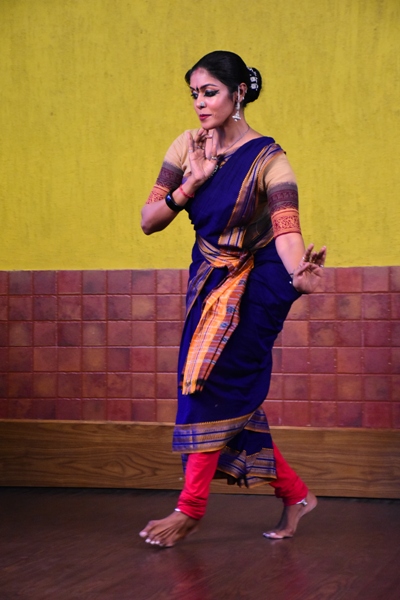 Bhubaneswar: The Annual Summer Workshop 2018 by Srjan, world's premier Odissi dance institution, will conclude on May 30, 2018. The month-long workshop is being attended by aspiring danseuses from all over the world.
Ever since the inception of Srjan in 1970, conducting workshop is an annual affairs to the institution. After Guru Kelucharan Mohapatra, his son Guru Ratikant Mohapatra is now hosting the workshop.
Fitness instructor Bibhudutta Rout conducts body conditioning sessions with intensive yoga in the morning, and Guru Ratikant takes the training classes of basic grammar and techniques of Odissi. And then, special summer workshop items are being  taught in detail, with special attention to the nuances of Taal and Abhinaya.
During the weekends, special lectures, demonstrations and performances are being  organised for the participants to understand the intricacies of Odissi dance and related aspects better, through the sharing of experiences by stalwarts in the performing arts field. The first weekend witnessed a session by Dr. Ileana Citaristi, senior Odissi dance exponent and disciple of Guru Kelucharan Mohapatra, who shared her journey and experiences in the field of Odissi. Then featured noted Odissi dancer, Rahul Acharya, who spoke about the significance of Jagannath culture in Odisha and its influence in Odissi dance and Pt. Nityananda Mishra, eminent Sanskrit scholar, who shed light on Dharma and Religion in context with Indian Philosophy. A two-day mime workshop by Niranjan Goswami, was organised at the Odissi Research Centre, Bhubaneswar. This delved into the subtleties of emotions, facial expressions and non-lingual acting.
Srjan also organised a screening of the movie, 'Bhavantaranam', by Kumar Shahani on the life and times of Guru Kelucharan Mohapatra and dance performances by Guruji, including Ashtapadis from the Geeta Govinda and an Odia Abhinaya. These were a source of inspiration and encouragement for all students to see the creation, evolution and establishment of Odissi dance as an internationally acclaimed art form.
Srjan member Reebdhita Barua presented Bhagavati Stotram, an item taught during the summer workshop and Sandhya Manoj, disciple of Guru Ratikant Mohapatra from Malaysia Sandhya performed an Abhinaya on Ashtanayika.