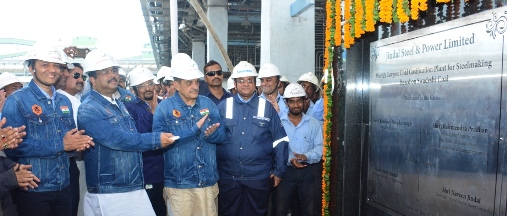 World's first and largest syngas based DRI plant inaugurated
Angul: World's first and largest syngas based DRI plant and world's largest coal gasification plant (CGP) along with India's largest blast furnace(BF) were dedicated to the nation, here on Saturday.
The union inister for steel Chaudhary Birender Singh dedicated the three units of Jindal Steel Power Ltd.(JSPL) steel facilities here. The ceremony was graced by union petroleum minister Dharmendra Pradhan, OP Jindal group chairperson emeritus Savitri Jindal, and JSPL  chairman Naveen Jindal.
As part of its 6 million tonnes per annum (mtpa)  steel plant in Angul, JSPL has set up coal gasification plant (CGP) for steel making on domestic coal, 2 mtpa DRI plant based on gas feed, and 4554 m3 blast furnace (BF) .
The plant's 3mtpa Basic Oxygen Furnace was also dedicated to the nation on this occasion.
The union steel minister said, the innovative coal gasification process created by JSPL  for making steel for the first time in the world will help Odisha becoming a steel hub in the days to come.
Singh was addressing the gathering on the dedication ceremony of four core steel manufacturing marvels at India's most modern 6 MTPA integrated steel plant of JSPL at Angul.
Stating that about 80 percent of coking coal worth Rs 20,000 crore is imported by India, Singh said, "We remain dependent on imports (for coking coal) but Naveen (Jindal) has come out with a plan which can make us reduce this dependence," he said. The minister added that the new technology of making steel by coal gasification helps in producing the metal using domestic coal.
Speaking on the occasion Naveen Jindal said, " It would be red letter day in the history of India's steel making history with four core steel manufacturing marvels at India's most moder 6mtpa integrated steel plant of JSPL at Angul was dedicated to the nation". He added this is for the first time that any company in India is using coal gasification method to make steel. The JSPL chairman asserted, "We are hopeful that after one year we will be able to run the 6 mtpa Angul plant in full capacity."