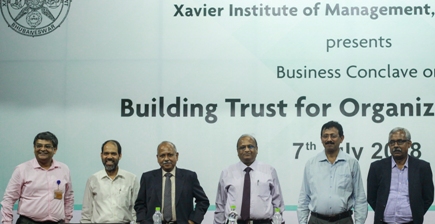 Bhubaneswar: The placement committee of XIMB, one of the premier B-school of India, and Xavier University Bhubaneswar(XUB) organised the first business conclave on Building Trust For Organizational Growth of 2018-19 academic year, here on Saturday.
Indian Oil Corporation Ltd. (IOCL) executive director for eastern region Amit Basu, chief general manager AC Ghosh, Nalco director(HR) Basanta Kumar Thakur, and NTPC general manager(HR) Sebastian Joseph​ addressed the conclave which was attended by scholars, practioners, experts and students. The speakers deliberated on the importance of building trust and how it is needed to accelerate growth regardless of the prevailing economic condition.
XIMB professor Dr. Amar KJR Nayak moderated for the event.