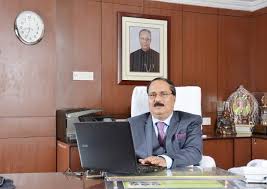 Bhubaneswar: National Aluminium Company Limited (NALCO) has once again repeated its stupendous performance by registering PAT of Rs 687 crore in the first quarter that ended in June of 2018-19, registering a growth of 433% over Rs 129 crore posted in the same quarter last fiscal. The Q1 profit registered an increase of  167 % over Rs.257 cr in Q4 of previous year.
Operating Profit of NALCO increased more than two-fold, registering Rs 889 cr in 2018-19 compared to Rs 362 cr in Q4 of FY 2017-18.  EBIDTA margin of the Company has increased from 18 % to 36 %, despite increase in input cost by 15 to 20 % during Q1 as compared to the previous quarter.
Nalco CMD Tapan Kumar Chand attributed the success to team work, strong cost focus and strategic planning.
It may be mentioned that the net profit figure of Rs 687 cr in the first quarter of 2018-19 surpassed the whole net profit of Rs 642 cr in 2013-14. This significant growth in profit has mainly come from the alumina revenue segment, Damanjodi, which has achieved the distinction of being the lowest cost producer of alumina in the world. Apart from the cost focus, it is the pre and post sales service of Nalco, coupled with its quality which has helped the Company in commanding a high premium in international market. Nalco's alumina product has strong brand image and sells at more than 10 % over the average CRU index.
Nalco has achieved remarkable growth in production in all fronts. During the quarter, bauxite production was 18.59 lakh tonnes, as against the 18.81 tonnes produced during corresponding period of previous year. Alumina hydrate production was 5.83 lakh tonnes, which is 10.74% higher as compared to 5.26 lakh tonnes produced during the corresponding period of last fiscal. During the quarter, the company produced 1.10 lakh tonnes of aluminium, which is 8.85% higher than 1.01 lakh tonnes produced in the 1st quarter of previous financial year. The net power generated during the quarter was 1682 million units. This has gone up by 5.14%, against 1599 million units generated in the corresponding period of last year. Besides, in the field of renewable energy, the company has generated 104 million units of wind power during these three months.
The total alumina sale during the quarter was 3.20 lakh tonnes and aluminium sale was 1.05 lakh tonnes.