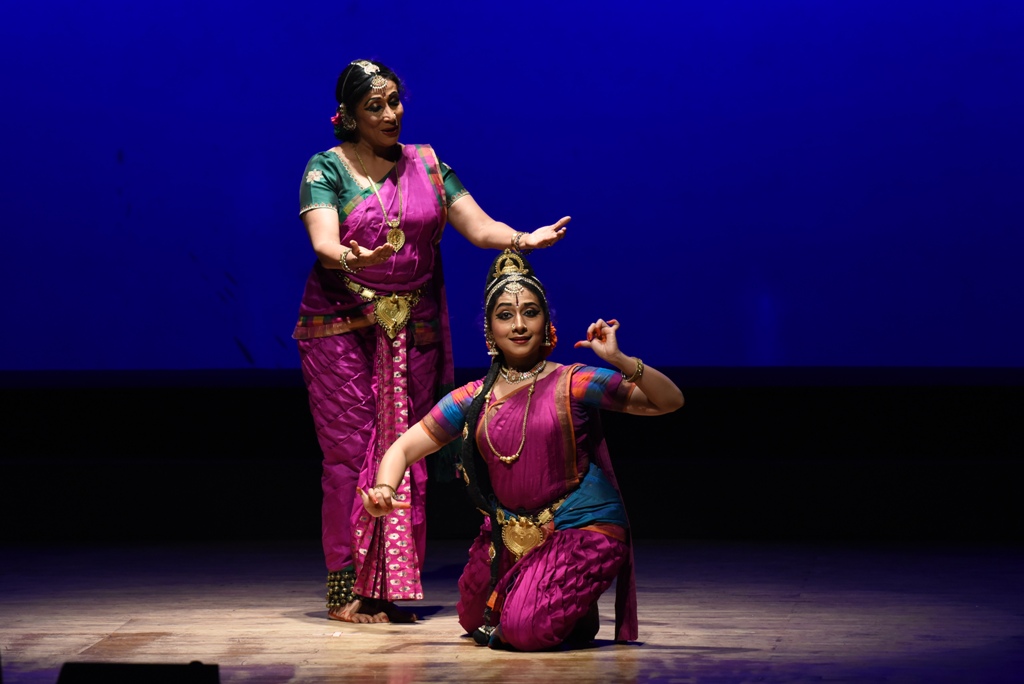 Bhubaneswar  : The second evening of the 24th OMC Guru Kelucharan Mohapatra Award Festival 2018 witnessed a vocal recital by Partha Sarathi Panigrahi and a Kuchipudi duet by Vyjayanthi and Prateeksha Kashi.
Partha Sarathi Panigrahi, better known as Baboo Panigrahi, enthralled the audience with Srita Kamala, Mamiyam Chalita Vilokya and Dheera Samire, Ashtapadis from the Geeta Govinda. Accompanied by Bibhu Prasad Tripathy on the keyboard, Dushmant Parida on percussion and Rabi Narayan Barik on the cymbalsalso sang Jaya Durge in praise of the power and grandeur of Goddess Durga with great poise and feeling. Baboo, a troue son of the cultural legendary couple Sanjukta and Raghunath Panigrahi, is carrying forward the rich musical legacy of his parents.
The mother-daughter duo Vyjayanthi Kashi and Prateeksha Kashi from Bangaluru presented Kuchipudi duets. Vyjayanthi Kashi's concept and choreography of Antaranga-taranga was presented skillfully with a blend of both elegance and great energy, with dialogues that heightened the dramatic effect. The entire production was a depiction of variations of the Vatsalya Rasa. The first item portrayed the Vatsalya Rasa between God and devotee through the story of Narasimha and Prahlad. Taken from the Krishna Leela Tarangini by Narayana Teertha, this piece highlighted the theatrical aspects of Kuchipudi with a seamless blend of Nritya, Nritta and Natya in the depiction of the Rasa between Narayana (Narasimha) and his devotee Prahlad through different experiences in his life. The second piece, Jagadoddharana is a popular composition portraying the Vatsalya Rasa between mother and son. Although Yashoda is not the actual mother of Krishna, her unconditional motherly love for him was brought out beautifully by Vyjayanthi Kashi.
In Bhumi Sita, specially choreographed for the Award Festival, they showed the Vatsalya Rasa between mother and daughter, narrating the feelings of Bhumi towards her daughter through the various phases of her life, her marriage to Lord Ram and especially during her final wish to return to the womb of her mother. Accompanied by a flawless live orchestra with Aishwariya Nityananda and Akhila Pajimanu on the Vocals, Shashishankara Bhadrachar on the mridangam, Jayaram KS on the flute, Vishwanath NV on the violin, Anil Iyer on the Natuvangam and Naveen MG on the lights, the experience of  Vyjayanthi Kashi and the energy of Prateeksha made Antaranga-taranga an aesthetic delight for the audience.
The vice chancellor of Bharatiya Vidya Bhawan, Dr. S. K. Tamotia, vice president of Crown Hotel A K Talukdar, and  Lalatendu Mohanty of Priyadarshini Handloom graced the second evening show. The director of Srjan, Ratikanta Moahaptra, introduced the guests to the audience. The Festival is being organized by Srjan for the last several years.
Bangaluru-based Carnatic Music Progressive Rock Bank , Kathak maestro Pt.Rajendra Gangani, high profile violinist Ambi Subramaniam and AGAM will perform in the next three evenings of the Festival, said Fesitval organizer Ratikanta Mohapatra.