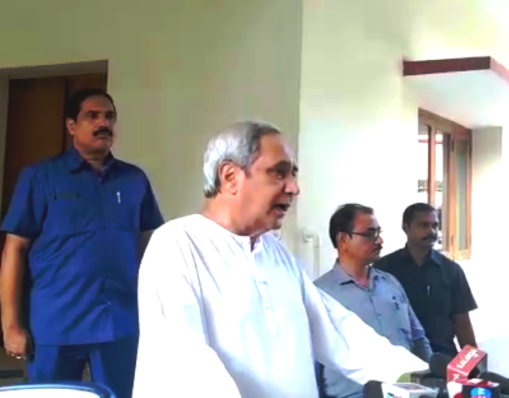 Bhubaneswar:The Odisha chief minister, Naveen Patnaik, Saturday showed his grit and came down heavily on prime minister Narendra Modi. The suave Patnaik reacted sharply to the remarks made by Modi about the state government.
The prime minister, who was in the state on Saturday to launch various projects,  mentioned at public meetings about PC culture in the state. He also critcized the state government on state promoted food security scheme and Biju Swastya Kalyan Yojana.
Referring to PC culture remark, Patnaik said : "He must have said that to enthuse his political workers. In fact, they should be thinking of their own skill mission and Ujjwala scams. They should also think very seriously about the record rocketing prices of petrol and diesl for which all the people of the country are suffering."
Patnaik, in reaction to Modi's criticism over Odisha's health and food security schemes, said, "the Biju Swasthya Kalyan Yojana (BSKY) covers extra 50 lakh beneficiaries which the Centre's scheme does not provide.Under the scheme, we provide health assistance to the tune of  Rs 7 lakh for women. As far as food security scheme is concerned, we provide the benefits to 25 lakhs extra poor people."
The chief minister, while briefing media persons, said that he had demanded that Jharsuguda airport be made a full-fledged commercial airport with introduction of Air India flights in addition to the UDAN flights. He asserted that it was on his demand the prime minister announced that the airport would be named after freedom fighter Veer Surendra Sai.
Demanding share from the proposed Talcher Fertilizer Plant, Patnaik urged the PM to allocate 50% of the urea produced from the plant to the state's farmer. He appealed Modi to increase the rate of coal royalty as Odisha being the coal-bearing state is being adversely affected due to mining activities.