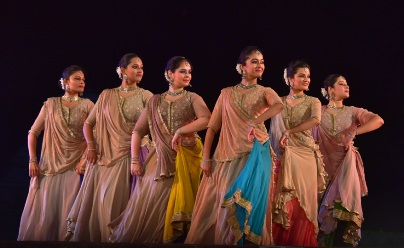 Konark: Curtains went down on the five day long Konark Festival, here on Wednesday.
The first ensemble in Kathak was mentored by established danseuse Smt.Kumudini Lakhia from Ahmedabad, and led by her senior disciple Ms. Sanjukta Sinha – beginning with an ode to Goddess Durga. This was followed by a reverberating demonstration of Tatkaar – the skill of footwork in Kathak, accompanied by recitals in TaalDhamaar. Bhakti movement saint Meerabai's Krishna Bhajans constituted the vocals for the succeeding performance. The word Kathak has been derived from the word Katha which means a story. Kathakars or story-tellers, are people who narrate stories largely based on episodes from the epics, myths and legends.
On the concluding evening, accomplished Kathak exponent Kumudini Lakhia mesmerized audience with her  innovative choreographs. Kumudini along with her senior disciple Sanjukta Sinha accompanied by recitals in Taal Dhamaar presented a reverbreating demonstration of Tatkaar– the fine skill of footwork in Kathak. Barse Badaria Sawan Ki… , a Meera Bhajan on Meera- Krishna love kept the audience spell bound. She started the evening with a ode to Goddess Durga in Durga Struti. The finesse of Khathak style came up with the presentation of Gati. Kumudini and her troup from Kadamb, a Kathak dance school in Ahmedabad of Gujarat, presented group dance Aakar, a combination of Taal and Chanda. The dancers of Kadamb also presented Taranna.
Kathak was followed by presentation of Odissi.  Padma Shri and Kendra Sangeet Natak Academy awardee Guru Ranjana Gauhar and her troupe from Delhi enacted dance-drama Matsyavataar(fish incarnation of God to retrieve the Vedas from demon Hayagriva), one among the Dashavataars . The music was scored by Suresh Seth and Guru Prafulla Mangaraj .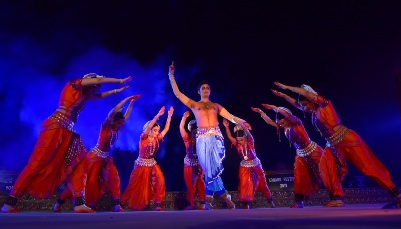 Odisha governor Ganeshi Lal, tourism director Vishal Dev and Puri collector Jyoti Prakash Das graced the closing ceremony. Tourism director Archana Patnaik , joint secretary Subhra Mohanty, joint director Utpala Pati, joint director Bijaya Kumar Jena, Konark tourism officer Saroj Kanta Pradhan, tourism officer Dr.Ratikanta Pattnaik, Dr.Sunil Kumar Patnaik, CEO of GKM Odissi Research Centre Sangita Gosain, Sangeet Natak Academy secretary Bijaya Jena were present on the concluding evening.  Mrutunjaya Rath and Sadhana Srivastav anchored the programme.