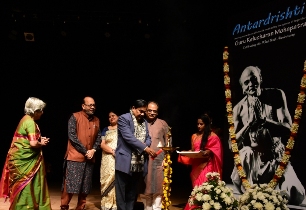 Bhubaneswar: Antardrishti, moving towards excellence and inspired by the genius of legendary Guru Kelucharan Mohapatra, was presented by Srjan and GKM Odissi Research Centre, here at Rabindra Mandap on Tuesday, in commemoration of Guru Kelucharan Mohapatra's 93rd birth anniversary.
This year, Antardrishti was a beautiful amalgamation of dance and music, featuring four Odissi recitals and a musical fusion to conclude the evening. The programme commenced with an Odissi recital by Riddhi Bhattacharya, who presented Jaya Mahesha, a prayer to Lord Shiva. A disciple of Ratikant Mohapatra, Riddhi is a bright young talent and one of the future faces of Odissi dance in her generation. Her rigourous training at Srjan from a young age was shown forth in her presentation of Jaya Mahesha, with crisp movements and good stage presence. Invoking the power and divine strength of Lord Shiva, this dance piece was set to the choreography of Guru Ratikant Mohapatra, to Raag- Ragamalika and Taal- Talamalika.
Bharati Mishra, a disciple of Leena Nanda, presented Arabi Pallavi, set to Raag Aarabi and Ekatali, a pure dance presentation, choreographed by the legendary maestro Guru Kelucharan Mohapatra and set to the music composition of Pt. Bhubaneswar Mishra.
The highlight of the evening was the presentation of a Ram Bhajan- Sri Ramachandra Krupalu Bhajamana, composed by Tulsidas. Rajashri Praharaj, a disciple of Ratikant Mohapatra, is an established soloist and recipient of Bismillah Khan Yuva Puraskar of Central sangit Natak Academy,known for her technical virtuosity and captivating stage presence. Set to the choreography of her Guru, Ratikant Mohapatra and the beautiful music composition of Pradeep Kumar Das in Raagamalika and Talamalika, her nuanced depiction of the various facets of Lord Rama in this devotional presentation epitomized grace and poise- the essence of the Guru Kelucharan Mohapatra gharana of Odissi.
Meera Das, a senior disciple of Guru Kelucharan Moahaptra, presented in solo an Ashtapadi, from poet Jayadeva's Geeta Govinda- Sakhi he Keshi Mathana Mudaram, a classic choreography by Guruji, to Pt. Bhubaneswar Mishra's soulful music composition. A befitting conclusion to the evening's dance performances, Meera Das, upheld the beauty of this classical style, as choreographed by her Guru, by exploring with experience and grace, the finer nuances of this Abhinaya, revolving around the intense feeling of passion of Radha, as she describes her night of union with her beloved Lord Krishna.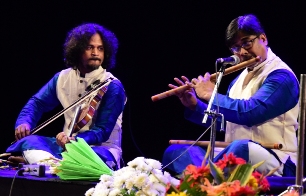 The programme concluded with a scintillating musical jugalbandi of flute and violin by Agnimitra Behera and Srinibas Satapathy, two of the most prominent and reputed classical musicians of Odisha. Accompanied by Nanda on the Tabla and Vaibhav on percussion, their soulful rendition coupled with the seamless rhythmic variations, made this an enthralling presentation.
Debi Prasad Mishra designed the lighting of the event which was graced by Guru Ratikant Mohapatra, director, Srjan, and Sangita Gosain, chief executive, GKCM Odissi Research Centre.