Bhubaneswar: Accomplished actress Waheeda Rehman, celebrated Indian English poet Jayanata Mohapatra, eminent historian Sugata Bose and stand up comedian Abhijit Ganguli graced the opening day of the three-day Tata Steel Bhubaneswar Literary Meet 2019, here on Friday.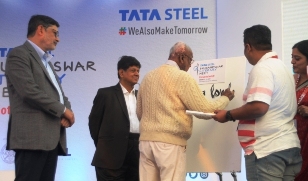 Poet Jayanta Moahaptra inaugurated the meet along with Rajaya Sabha member and editor of Sambad SR Patnaik, Tata Steel president TQM and steel business Anand Sen, and vice president, corporate services, Chanakya Chaudhary.
Mahapatra, the feted-poet and proponent of Odia literature who is also the first Indian English poet to receive the Sahitya Akademi Award, spoke about how poetry lets him understand reality. He also talked about how literature is becoming more accessible in the digital age. He encouraged budding authors to draw inspiration from the adversities they face and use the technology now available to them to their advantage to express creativity and imagination.
Sugata Bose, who was engaged in a conversation by eminent translator and academician Jaindra Nayak, dispelled some of the popular belief about the relationship between Mahatama Gandhi and Subash Chandra Bose. Sugata said that the two tall leaders of the pre-independence India were having cordial relationship and lived with mutual respect for each other.
Legendary actress Waheeda Rehman who mesmerised the audience as she reminisced on her portrayal of iconic literary characters on screen. She narrated some of the interesting anecdotes of her life. Waheeda recalled her visit to Berhampur as a teenager girl for a dance programme. She remembered how she lost her bracelet to sea while once she was on Gopalpur seabeach.
The eventful day concluded on a lighter note with a stand-up performance by acclaimed comedian Abijit Ganguly. The talented performer regaled the packed XIMB Auditorium with his observation-based anecdotes.
"The Literary Meet is in alignment with Tata Steel's corporate philosophy of encouraging and supporting initiatives that aim to foster intellectual and cultural pursuits in society. ," said Tata Steel's Sen.
Tata Steel's Chaudhary said, "Art, literature and culture are very important ways in which we converse with the community, especially in Odisha, a state that has contributed immensely to India's cultural and literary legacy by producing exemplary authors and scholars."
Participants at this year's Literary Meet include legendary writer Ruskin Bond and acclaimed singer Rekha Bhardwaj. Other speakers of note are Ravinder Singh, Vineet Bajpai, AatishTaseer, Jayant Kripalani, Bikram Grewal, Nicholas James, Nabina Das, Sucheta Mishra, Ileana Citaristi, Mitra Phukan, Kishwar Desai, Charles Assisi, NS Ramnath, Prajwal Parajuly, DebashishPanigrahi, Hussain Haidry, Pritish Acharya, Dash Benhur and Ananta Mahapatra, among others.