Bhubaneswar: Iconic author Ruskin Bond kept spellbound through his story telling skill on the second day of the Tata Steel Bhubaneswar Literary Meet (TSBLM), here on Saturday. The country's most recognised contemporary author, Mr Bond dished out anecdotes and snippets from his illustrious career at the Meet. He also spoke about the importance of reading and how it is critical in sharpening one's writing skills.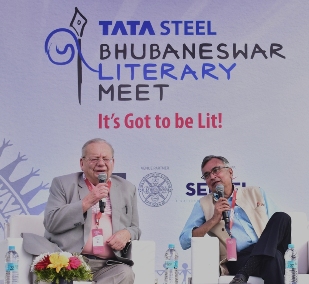 Eminent short story writer Gaurahari Das kept engaging exchange promoting Odia literature in the next session. Das anchored writers and proponents of Odia, SN Sahu, Jatindra Nayak, Sangram Jena and SahityaAkademi awardee Dash Benhur on the topic Mahatma's journey through the state of Odisha.
Celebrated thespian and actor Jayant Kripalani joined spoken word poet Hussain Haidry to talk about the past and future of cinema and entertainment. "The future of literature lies on the silver screen. With the acceptance of the digital medium to consume entertainment and the success of web series shows that today's audience consume literature through the screen," said Kripalani.
Entrepreneur and successful author Vineet Bajpai captivated the audience as he described his journey to become an author. Budding authors and students alike were eager to understand from Mr Bajpai how one can strike a balance between one's vocation and interest. The day concluded with a poetry session under the stars. Kripalani and Haidry were joined by poet-authors Nabina Das and Sucheta Mishra to recite their works.
The fourth edition of the Tata Steel Bhubaneswar Literary Meet concludes tomorrow with several engaging debates and performances in store. These include sessions with journalist Charles Assisi, ornithologist and conservationist Bikram Grewal, celebrated author AatishTaseer and acclaimed singer Rekha Bhardwaj.