Bhubaneswar: Curtains downed on the internationally famed Mukteswar Dance Festival 2019, here on Wednesday.
Set amidst the majestic Mukteswar Temple, the cultural event began with a high note Shiv Vandana performed by the students of Utkal Sangeet Mahavidyalaya. The music was composed by Bijaya Kumar Jena. Then Odissi danseuse Janhabi Behera took over the stage and charmed the audience with her graceful movements. She presented Jaganath Astakam and Khamaji Pallavi. Then she performed Devi Strotam Aigirinandini choreographed by Padma Shree Aruna Mohanty.
The duet Odissi performance by Tapan Kumar Sahoo and Bidya Biswajita made for a joyous performance with sculpturesque poses and a series of vigorous footwork. The duo presented Pallavi on raag gati, pancha parmeswar choreographed by Guru Manoranjan Pradhan and Lingaraj Swain.
The event concluded with presentations by Meera Das and her troupe from the Gunjan Dance Academy . The troupe presented Pallavi on raag aish and Shiva Panchakhara Strotam and Rudra Arati. The ritualistic choreography which is poetry in motion elevated the enthralling experience of the evening.
Apart from the usual art and dance connoisseurs, foreign nationals from countries like Japan, Russia, China, Brazil, Germany among others graced the occasion as well.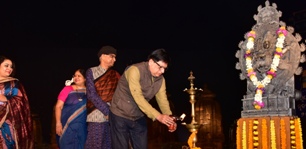 Additional chief secretary LN Gupta, Odisha University of Culture vice chancellor Kamala Kanta Mishra, tourism joint director Utapala Kumar Pati, lyricist Nityananda Mishra, and GKCM Odissi Research Centre chief executive Sangita Gosein graced the evening. Srinibas Ghatuwari and Anuja Tarinia Mishra anchored the programmes.