Bhubaneswar :Curtains were down on the Rajarani Music Festival with Padmashree Sobha Mudgal enthralling the audiences with her vocal prowess, here on Sunday.

Internationally acclaimed Hindustani vocalist Padmashree Shubha Mudgal regaled the audience with her mystical performances. The evening also witnessed a scintillating performance with a Musical Ensemble Shivangi by Agnimitra Behera & Group. Their presentations which consisted of hymn of Shivangi set to raag Chaukeshi, Arabian Night set to raag Vairabi, traditional Odissi instrumental, Sound of Joy set to raag Kiribani and Tempest based on raag Bakulavarana left everyone spellbound.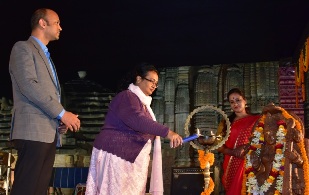 Vishal K. Dev, Commissioner-cum-secretary, Odisha Tourism said: "Last one week has been culturally and musically enlightening and entratining for everyone who attended the Mukteswar Dance Festival and Rajarani Music Festival. We are thankful to all the artists for mesmerizing our audience with their magical performances."
The dignitaries who graced the concluding evening were principal accountant general of Odisha Madhusmita Basu, member board of revenue GVV Sharma, tourism secretary Vishal Kumar Dev, and tourism director R. P. Singh. The programme was conducted by Dr. Sangeeta Gosain and Dr. Vedula Ramalakshmi.