Bhubaneswar: Xavier Institute of Management, Bhubaneswar(XIMB) organised XIMB Annual Business Summit-2019, here on Sunday. This Summit was conducted by X-Eminence which had students pursuing the Executive-MBA course in the institute.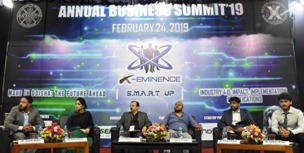 The state MSME minister Prafulla Samal, in his inaugural address, said that the 'Make in Odisha 2.0' would create 6 lakh jobs. He said women would develop 1/3rd of the start-ups in the state.


Fellow Member FCA and partner of SRB Associates, Rajib Sekhar Sahoo,
Additional Director Audit & Finance Department Chandan Sadangi, and
Associate VP, Jindal Steel & Power Ltd. Bibhu P. Mishra spoke in the session Make In Odisha: The Future Ahead.

Associate Dean Executive MBA Prof S K Padhi, Founder, Knowlexeon
Priyadarshi Sadangi, Founder, Grozip Ananda Mishra, Founder, Reemly's Design Studio Reemly Mohanty, Founder, Max Solutions Siddhartha Stithapragyan, and the founder of 'The Adview' Subhajit Majee participated in the panel discussion on S.M.A.R.T. UP
State E & IT special secretary Rudra Narayan Pilai, head of Digital Transformation Renault Nissan Mitsubishi Alliance Dinakar Ramamurthy, delivery head, mfg & auto assurance, Tata Consultancy Services, Ramesh Kollana and director risk advisory, Deloitte, Padmaja Mishra and former VP of Yes Bank, Somnath Mitra talked about AI and data mining in the session 'Industry 4.0: Impact, Implementation & Implications'.