Bhubaneswar: Akhilesh Yadav, Mayavati and Juel Oram must be envy of Odisha chief minister Naveen Patnaik. For, Patnaik while offering party tickets to 33% of the state's 21 Lok Sabha seats to women has picked up tribal, dalits and OBC candidates only for all these seats.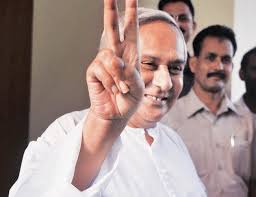 Naveen has nominated three candidates each from tribal and dalit communities while one from OBC for the 7 seats of Koraput, Aska, Jajpur, Jagatsinghpur, Badrak, Sundergarh and Keonjhar. For Koraput, Keonjhar and Sundergarh ST reserved seats he has picked up Koushalya Hikaka, Sunita Biswal and Chandrani Murmu while for the SC reserved seats of Jajpur, Jagatsinghpur and Bhadrak he has nominated Sharmistha Sethi, Dr. Rajashree Mallick and Manjulata Mandal. For Aska seat, Naveen has picked up an OBC candidate Pramila Bisoi, an illiterate women known for his SHGs organising leadership. What is more, all these women candidates are highly qualified. While Rajashree is a doctor by profession and Chandrarani Murmu is a engineer by qualificatioin, Sharmistha was a senior Odisha civil service officer before being opted to contest the elections. Sunita Biswal is the daughter of two time Odisha chief minister Hemananda Biswal and Koushalaya Hikaka and Manjulata Mandal are wife of Jinha Hikka(BJD's sitting MP of Koraput) and Muktikanta Mandal(BJD's Dhamnagar MLA) respectively.
With his selctions of women candidates for the Lok Sabha elections, Naveen gave a message that there is no dearth of women candidates in the state. Not only that candidates of ST, SC and OBC are also available.
While BSP supremo Mayavati is championing the cause of Dalits, SP chief Yadav is fighting for the cause of OBCs and Juel, the union tribal minister is the BJP's face for tribals.
For those criticising women reservation stating that parties would not get adequate number of candidates to field in the polls, Naveen's message was very clear. Suitable and qualified women candidates are available if one has the desire to give the proper representation to the fairer sex.
Naveen Thursday said one of his most satisfying moments as BJD supremo was when the party , in a first of its kind decision of any political party in the country , decided to provide 33% reservation for women candidates to the Lok Sabha. He also asserted that women empowerment will only act as double engine for development.