Mumbai: Pallav Odia Foundation in partnership with Puurn Bhoj is organising Taste of Odisha in Mumbai, an Odia food festival, here at Palava in Nilje on Sunday. Under the expert guidance of Puurn Bhoj founder, Akanksha Jodhani Garabadu, the team is going to tempt visitors with a panorama of delicacies that are quintessentially Odia in every bite.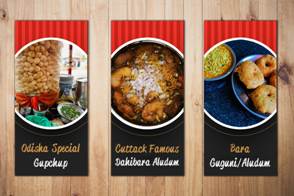 Puurn Bhol's Akansha Jodhani Garabadu said the aroma wafting through the air mixed with Odisha pride can now be felt here in Mumbai with Pallav Odia Foundation readying the platter with authentic and luscious culinary delights from the eastern state of India alongside its catering partner Puurn Bhoj . Odisha's rich culture too is reflected in its food, which is simple and devoid of frills and fuss, she said adding, it's delicate and light in oil and spice yet full of flavour.

The paid snacks that will be available include lip-smacking and hard-to-resist Dahibara Aloodum, Bara Ghugni, Bara Aloodum, Pakudi and Gup Chup, the Odia style Pani Puri.

Akansha Jodhani Garabadu said more than 450 people are expected at the event.