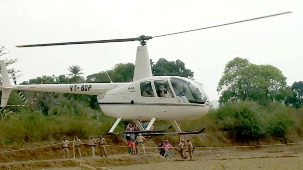 Bhubaneswar: The ruling BJP seems to have outsmarted the opposition at least in booking chartered choppers in this poll season. The saffron party with no dearth of resources has booked all most all the chartered flights available in the country well in advance.
Congress, the main opposition party in the country is whining over it. Its senior leader Anand Sharma grumbled the BJP has acquired near monopoly on aircraft in the country.
The West Bengal chief minister and Trunmool Congress supremo Mamata Banerjee belatedly realised this. Recently, when she wanted to fly to Jalapaiguri for election campaign, she was offered an obsolete chopper which developed snag after landing near the rally site. She had to travel to the next rally site by road. Mamata has now requested Mahagathbandhan friend Chandrababu Naidu, his counterpart in Andhra Pradesh, for lending a chartered flight. After the elections to the both Lok Sabha and Assembly over in Andhra Pradesh, Naidu likely to come to the rescue of Mamata.
In Odisha, however, Naveen proved to be wise. The BJD supremo not only has his chartered flights booked well in advance for the poll duty, he has hired a hi-tech bus to conduct powerful roadshows across the state.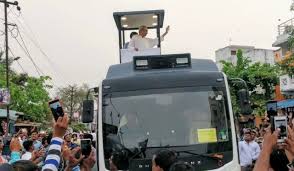 With fleet of chopper at its command, the BJP in Odisha is, in fact, making a high profile campaign in the state. Even small time leaders in the state are now flying from place to place with beautiful film actresses as star campaigners in tow.
Interestingly, the chopper boy Jay Panda's flying in the state is mired in controversy. The ruling BJD has brought to the notice of the Election Commission that Panda, who is contesting from Kendrapada this time in BJP ticket, is using IMFA company's chopper for election campaign which is in violation of the model code of conduct. Pointing out the two -seater helicopter is not having the commercial license, the BJD has further questioned how can the hiring expenditure would be accounted for in the candidate's expenditures.
By Aditya Nayak