Bhubaneswar: The Odisha chief minister and BJD supremo Monday picked up Sabitri Agawal, the widow wife of former minister Bed Prakash Agarwal as party nominee for the Patkumar assembly, elections to which will be held on May 19.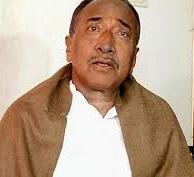 Patnaik declared the candidate name for the Patkura in the presence of Sabitri Agarwal, his son Sanjaya Agarwal, party general secretary Pranab Prakash Das, Pradip Kumar Panigrahi, and Gopabandhu Das. On this occasion Saroj Sabhu, the BJP's Derabis block chairman formally joined the BJD party.
Patkura election had countermanded due to the death of BJD candidate Bed Prakash Agarwal. However, taking a quick decision the Chief Electoral Officer of Odisha recommended for the election to the assembly seat before the end of the ongoing electoral process on May 19. The election was rescheduled on May 19 with a rider that only BJD will nominate a candidate in place of Agarwal.
Patkura has drawn the attention of the whole state as veteran politician Bijaya Mohapatra is again trying his electoral luck from this seat after remaining in political wilderness for nearly 20 years. Mohapatra's victory prospect was quite bright this time given the pro-BJP mood of the voters. However, now sympathy wave in favour of the widow wife of Agarwal with the orgnisational backup of the BJD, it would be now an uphill taks for him to get through.