Bhubaneswar: Former union minister and Congress' expelled leader Srikanta Jena seems to have failed impressing the Bahujan Samaj Party (BSP) supremo Mayawati. Perhaps that is the reason why the BSP supremo has removed the party's Odisha-in-charge Dharam Veer Singh.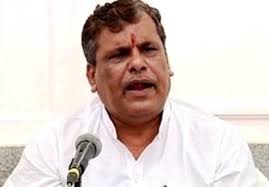 Mayawati's decision to retain Tankadhar Bag as BSP's Odisha president even though she removed state presidents of New Delhi, Chhattishgarh, Madhyapradesh clearly indicates that she was not happy with Jena. Bag was not favourably disposed in favour of Jena's campaign for the party candidates.
Jena, known for his election strategies, was the star campaigner for the BSP in Odisha. He, at the behest of the party's state co-ordinator Dharam Veer Singh, had campaigned extensively for BSP candidates though he had not joined the party formally.
Jena along with the Koraput MLA Krushna Chandra Sagaria was expelled from the Congress party just before the elections for anti-party activities. Sagaria joined the BSP and contested from Jeypore assembly constituency. Jena, Mandalite leader, however, preferred to campaign for the Mayawati party in the state without joining it.
But, despite of his powerful campaign the party could not win a seat in the Lok Sabha as well as in the state assembly elections, for which simultaneous elections were being held.
The BSP had fielded candidates in 17 of the 21 Lok Sabha seats in the state. It had also contested in 107 of the 146 assembly seats for which elections were held.
However, the party's vote shares both in the Lok Sabha and State Assembly came down in comparison to the previous elections in 2014. The BSP party has polled 0.8% in Lok Sabha and 0.87% in State Assembly elections. In the 2014 elections the party had polled 1% votes in the state.