Bhubaneswar: The Odisha government Thursday cleared seven resort and tourism projects worth about Rs 354.34 crore.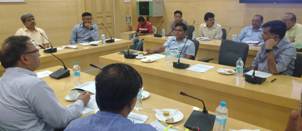 The projects that were cleared includes a golf resort by Mayfair Hotels & Resorts Ltd. at Satapada in Puri district with an investment of Rs 125 crore, Gopalpur Palm Resort at Udaypur in Ganjam district by Swasti Vacations Club Ltd. an investment of Rs 64.58 crore. The Lalchand Resourt will develop a 4-star hotel at Trisulia in Cuttack district with an investment of Rs 54.50 crore. While the Luxurio Assets Pvt. Ltd. will develop a resort at Gopalpur in Ganjam district with an investment of Rs 49.80 crore, the Lifeline Multi-venture Pvt Ltd. to develop a resort at Tampara in Ganjam district at a cost of Rs49.80 crore. Aquamagic Water Amusement Park will develop a water park at Basantpur near Sambalpur with an investment of Rs 7.50 crore and M/S Krishna Holdings will develop a theme park and resort at Rourkela with an investment of Rs 3.16 crore.
The land for the projects were allotted at high-level meeting chaired by chief secretary, AP Padhi.
The state tourism secretary, Vishal Dev, said that the seven projects require 79.5 acres of land and the government has decided to allot 42.5 acres. The developers would arrange the remaining land of their own, he added.
Dev said the projects would be completed within three years time. According to him, on completion these projects would generate huge employment directly and indirectly in the area.