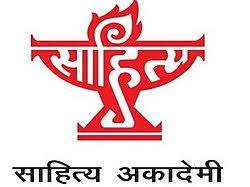 New Delhi: Central Sahitya Academy has conferred Bal Sahitya Puraskar on Birendra Kumar Samantray and Yuva Puraskar in literary criticism category on Sisira Behera. While the Bal Sahitya Puraskar for Birendra Kumar is for his total contribution to children literature, the Yuva Puraskar is for Sisira's book 'Bimugdha Uccharana'.
The Central Sahitya Academy has announced 22 names for Bal Sahitya Puraskar 2019 and 23 names for Yuva Puraskar 2019. A three-member jury for each language nominated the winners. The Academy's Executive Council, which met under the chairmanship of Academy president Chandra Sekher Kambar at Agartala on Friday, approved the names before announcement. This year 11 poetry books, 6 short stories books, 5 novels and one literary criticism book were taken into consideration for Yuva Puraskar.
The winners of Bal Sahitya Puraskar and the Yuva Puraskar would be honoured with an engraved copper plaque and a cheque of Rs 50,000 at a function of the Academy to be held at a later date.
Seventy-two year old Birendra Kumar has written over 50 books for children. He has conferred the Odisha Sahitya Aacademy award in 1990 for his book 'Rajara Swapna' . However, his books 'Pilanka Pain Biswakosha' and 'Utkala Pradipa Gyanakosha' are considered to be his significant contribution to children literature.
Birendra Kumar was the editor of children magazine 'Tuuki Mush'. He has established a museum of his own effort in his native village Balisahi under Balipatna block of Khorda district.
The three jury members of the award were Arabinda Patnaik, Prafulla Kumar Tripathy and Dash Benhur.