New Delhi: Odisha has received the Agriculture Leadership Award for the year 2019 for fish production. The Award, instituted by the Agriculture Today Group, was conferred to Odisha for being the best state in the country in fish production.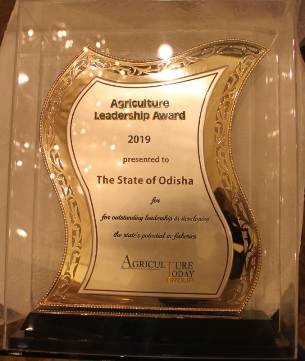 Union agriculture minister Narendra Singh Tomar handed over the Award to Odisha's resident commissioner at New Delhi Sanjeev Mishra at a function, held here on Thursday.
The Odisha agriculture, fisheries and animal welfare minister, Arun Sahoo, said that the Award will encourage the fishermen of the state to strive for higher fish production and fish exports.
Odisha is a pioneer state in formulating policy for fish production as it put in place the first State Fishery Policy in 2015. Odisha has 480 km long marine coast besides 6.69 lakh hectares of sweet water bodies and 4.18 lakh brackish water bodies. The state government though its policy intervention is promoting fish production and also exports of fish from the state. The state aimed at earning Rs 20,000 crore forex per annum by exporting fish products. Odisha stands 5th in sweet water fish production and 8th in marine fish production in the country. The shrimp and marine fish exports has increased to Rs 3,100 crore in 2017-18 from Rs1,963 crore in 2015-16.
A jury headed by Kerela govenor P Sadasivam has nominated Odisha for the Award this year.